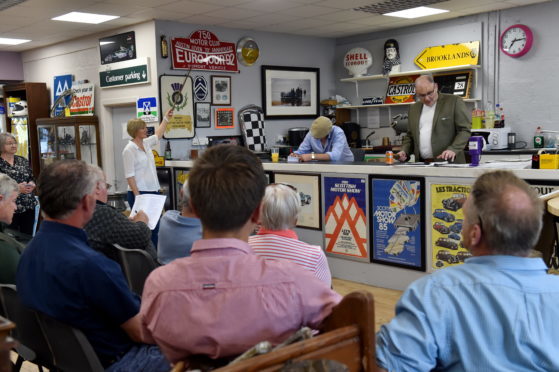 A north-east charity can open its first cafe to help get people into employment after raising thousands of pounds at a specialist auction.
Almost 200 pieces of rare automotive memorabilia went under the hammer at Smile Scotland on Thursday night.
The organisation, which provides education and training to help people into work, will use the coffee shop at its base on Broomhill Road, Aberdeen, to teach clients about hospitality.
Smile Scotland co-founder and trustee Clive Hampshire, who also acted as auctioneer for the event, said: "It was a fantastic evening.
"It was really well attended for a specialist auction with about 60 people there.
"After taking off the necessary deductions, the profit for the charity was over £4,400, which is what we needed to start work."
Of the 191 items on offer, 168 were sold to buyers who travelled to the auction from across the north and north-east of Scotland.
Volunteers at the event also fielded a telephone bid from Houston in Texas for one of the lots.
Among the successfully sold memorabilia was a £500 limited edition Jack Vettriano print and a £155 car badge from Iran.
Mr Hampshire said: "The bidding was fast and furious so we were delighted.
"A lot of the signs were hotly contested and went for a lot more than we thought they might do.
"It was well-received and people are already asking me when the next auction is going to be.
"So we're intending to hold three or four a year, but with different types of items each time."
Smile Scotland offers training in furniture repair, customer service and procurement to help people who have been, or who are at risk of being, discriminated against.
Their clients include people with mental or physical ill health, who need additional learning support, who have a criminal background or who are struggling with homelessness.
Mr Hampshire added: "The money from the auction is now going towards the coffee shop so we can finish work and get it open.
"We can take our client group and teach them about the hospitality industry whether that's through waiting and waitressing, as a barista or washing dishes.
"Then we can progress them into employment and provide references or back-up employment."