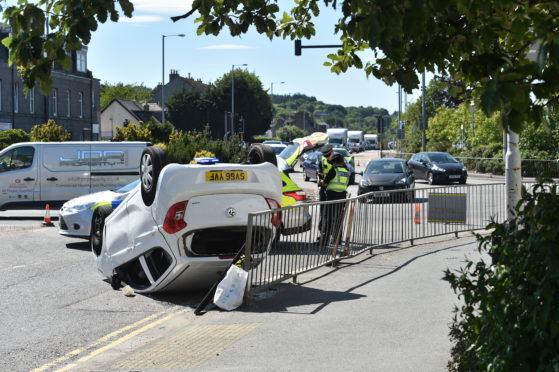 Huge queues formed after a car crashed and overturned at a notorious Aberdeen roundabout yesterday, partially blocking the road.
A woman was taken to hospital after her white Vauxhall Viva hatchback collided with a lorry and came to rest on its roof at the Haudagain roundabout shortly after 2pm.
Despite the car suffering extensive damage, a police spokesman said the driver appeared not to have come to any serious harm and had been taken to Aberdeen Royal Infirmary only as a precaution.
Traffic quickly began to bottleneck at the spot as police arrived to seal off a section of the road until the stricken Vauxhall could be removed from the carriageway.
Bus routes had to be diverted as lines of traffic backed-up in each direction.
One motorist, who was heading into Aberdeen, said that the tailback stretched nearly as far back as Bucksburn to the west.
He added: "We were moving very slowly. It was more like rush hour on a weekday than it would normally be on a Sunday afternoon.
"We turned left at the Haudagain to visit Tesco and the traffic in that direction stretched almost as far back as the supermarket.
"It caused a fair bit of disruption.
"When we saw the car we were worried that someone had died, so it is a relief to hear that nobody was seriously hurt."
Stagecoach advised customers via social media that services heading into the city would divert up North Anderson Drive onto Hilton Drive, before returning to their normal course at St Machar Drive.
A police spokesman later confirmed that the road was reopened at 3.45pm, about an hour and a half after the crash.
He added: "The female driver of the car was taken to hospital, but only as a precaution as she was found to have no serious injuries.
"We understand that there was a HGV involved in the collision."
A £30 million improvement scheme for the roundabout has been formed, which will involve building a new link road to improve the flow of traffic.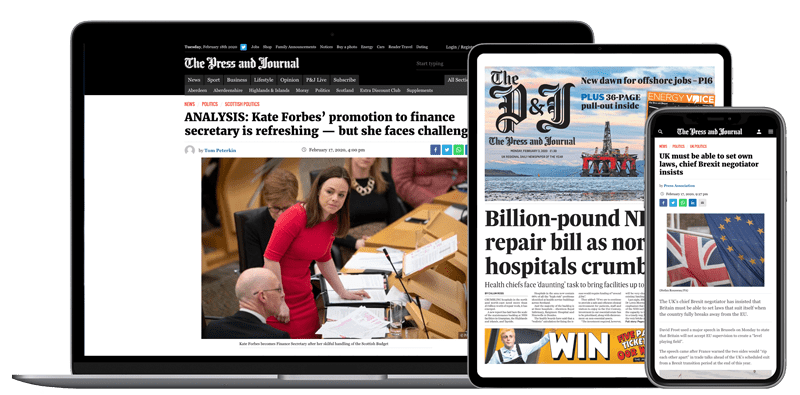 Help support quality local journalism … become a digital subscriber to The Press and Journal
For as little as £5.99 a month you can access all of our content, including Premium articles.
Subscribe