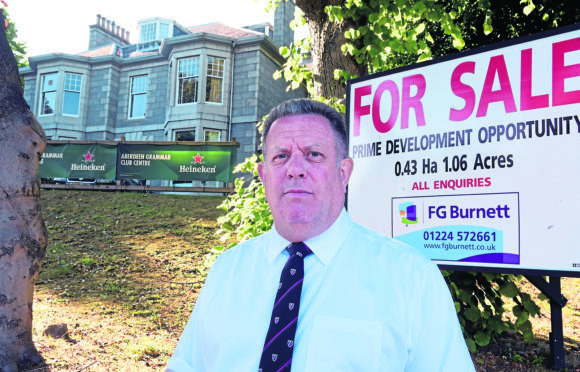 The controversial sale of the Aberdeen Grammar FP Club in Rubislaw has been agreed with a care home operator, for a price in the region of £2.25 million.
The scheme gained approval by a narrow margin – 48 votes to 41 at a special general meeting earlier this week – but those behind it confirmed yesterday that the club centre at 86 Queens Road would remain open until at least next April and potentially the end of 2019.
One critic of the proposal, however, said there were still a lot of obstacles to overcome before the sale of the 50-year-old building was completed.
The FP Club executive chairman, Alan Campbell, said: "The deal is with a care home operator, whose identity is not being disclosed at this time, and is worth £2.25 million and depends upon planning permission for a certain type of development.
"While we are sad the financial realities we face as an FP club left us with no other viable options, it is intended to keep the club centre doors open as long as possible for business.
"We will also be seeking alternative facilities in the vicinity of Rubislaw where we can have an identifiable club presence where the sports sections can find a new home."
The venue currently hosts a number of different groups, with links to rugby, cricket, hockey, lacrosse, pétanque and football.
Jim Rae, a lifetime FP club member and honorary president of the rugby club, said yesterday: "There is still a lot of water to go under the bridge before this sale goes through.
"We want what's best for the future, but there are plenty of questions which haven't been answered."
That view was echoed by Andy Joruszek, the co-owner of Aberdeen institution The Grill, who attended Monday night's meeting.
He told the Press and Journal yesterday: "This is just an agreement to proceed with the sale and, although it's a step forward, it doesn't mean the deal is done.
"A lot of the people who use the club are not keen on the sale and the developers will have to get planning permission for their proposals.
"I don't think this matter will be settled in weeks or even months."