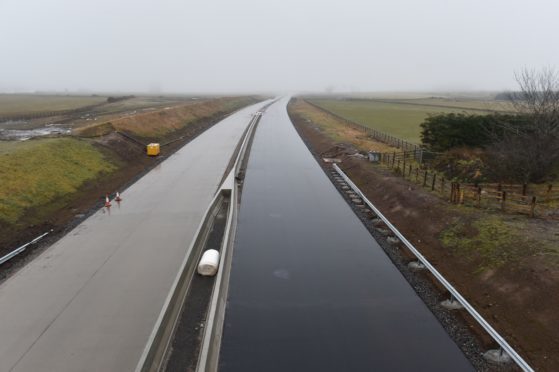 Scottish Government chiefs still cannot confirm the final opening date for the Aberdeen bypass – leading to claims city residents are losing patience.
The £750 million AWPR project, the biggest currently under construction in Europe, has been under construction for the past several years.
It was initially expected to open before summer but the date was moved back to "Autumn".
A four-mile stretch of the route between Parkhill and Blackdog welcomed its first in vehicles in May but Conservative north east MSP Liam Kerr has since written to transport secretary Michael Matheson asking if an official opening date had been set.
In his response Mr Matheson said the government was committed to opening sections of the road in advance wherever possible but that "it may be prudent to anticipate a late autumn 2018 date for the overall project opening".
He added: "I am pleased to advise that the 7km section between Parkhill and Blackdog opened to traffic on June 27 and I anticipate further sections of the new road to be available in the coming weeks.
"Transport Scotland will continue to work with the contractor to ensure the project is delivered at the earliest opportunity.
Mr Kerr said he hoped an official opening date would come soon.
He said: "I have asked the new cabinet secretary whether he can update us all on a completion date for the AWPR but his answer doesn't fill me with confidence.
"There was a small sigh of relief when a seven-kilometre section opened up between Goval and Blackdog – admittedly a small part of a massive project which people want to see finished, and soon.
"The SNP's original promise was for the route to be complete earlier this year, then autumn, late autumn, and now apparently 'the coming months'.
"There have been reports of massive bills for Aberdeenshire Council, cracks appearing in infrastructure shortly after it's been laid and complaints from residents who are losing their patience.
"I expect Michael Matheson to have some firm dates in his hand from Transport Scotland – and soon."