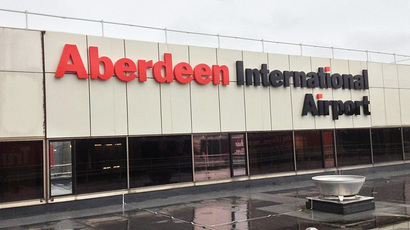 Almost 200 airport workers will walk out in protest over a proposed pay deal, raising the prospect of major disruption for holidaymakers.
It is feared thousands may to rearrange scheduled trips if the strikes – planned for July and August – cannot be averted.
Unite the union announced 170 of its workers were planning three days of 24 hour industrial action over the next six weeks.
That follows a ballot in which 88% of its members rejected the latest offer from airport bosses.
Firefighters, security and airside staff are among those who will take part in the peak summer strikes.
Summer flight fears for passengers after workers at Aberdeen Airport vote for strike action
Union members have now rejected two offers which they claim were below inflation, following similar rises over the past two years, with chiefs branding those offers "derisory".
Now the first walk-out is planned for July 20, with further strikes to take place on August 2 and 16 unless agreement can be reached.
Unite's regional officer Wullie Wallace said: "Aberdeen International Airport's latest derisory pay offer has been emphatically rejected by Unite members.
"The workforce for several years now has received below inflation increases and the company's idea of rewarding their hard working employees is by offering more real-terms pay cuts.
"Aberdeen Airport has been investing heavily in improving the airport facilities and amenities.
"It's high time the company invested in its employees."
Mr Wallace said Unite "remained open to further discussions" with a view to resolving the dispute.
Nonetheless, the announced of industrial action has led to fears of major disruption at the airport, just weeks after a new domestic arrivals facility was opened as part of a long-term multi-million-pound expansion.
Gordon MP Colin Clark said he feared holidaymakers would suffer as a result of what he called "unnecessary" action.
He said: "It is very disappointing to see such unnecessary action being taken.
"These striking days are in the busiest time of year for the airport.
"The public will be the ones to suffer and thousands of people will have to rearrange scheduled holidays and family visits.
"It is also going to put people's lives at risk if airport firefighters are involved.
"I urge the union to get back around the table and seek a deal that's fair to everyone."
Aberdeen Airport said it was unclear how much disruption the strikes would cause, if they go ahead.
A spokesman said: "We have been informed by Unite of their intention to take industrial action on Friday July 20. This follows the rejection of our proposed pay offer.
"We believe we have made an offer that is entirely fair and reasonable and we are committed to continuing discussions to reach a resolution acceptable to all parties."