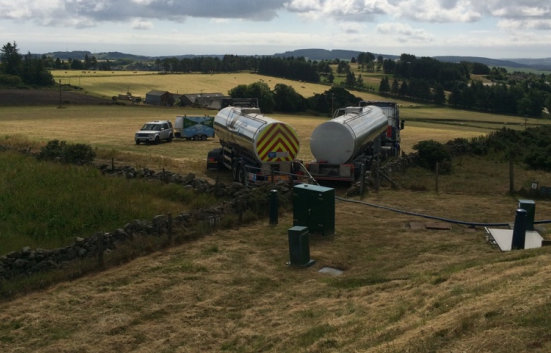 Emergency water tankers are being deployed across Scotland as round-the-clock work to ease the "unprecedented" shortages continues.
Families and businesses all over the country have been warned to "use their water wisely" with the prolonged hot and dry weather sparking a 30% increase in usage levels, causing some sources to dry up.
Scottish Water is now pushing an extra 140 million litres through the network every day, and has begun sending tankers to further aid the efforts.
In the last few days they have topped up water mains and storage tanks at treatment works by about 750,000 litres.
Peter Farrer, Scottish Water chief operating officer, said: "We are working around the clock to maintain supplies during this period of very warm, dry weather which is having an effect on the amount of water people are using for a wide range of purposes.
"We remain absolutely focused on ensuring Scotland's water supplies are maintained and protected but I would repeat the call to customers to work with us to achieve this.
"We have seen unprecedented increases in water use across the country where there has been very little or no rainfall for weeks and our teams are working at near capacity to meet that need."
Meanwhile crews battling a wildfire in the north remained on scene yesterday as the incident entered its fourth day.
Firefighters at Ben Bhraggie in Golspie could be seen dampening down hotspots as welcomed rain assisted in their quest to fully extinguish the devastating fire, which spanned over a distance of two-and-a-half square miles.
Crews from Helmsdale, Dornoch, Dingwall, Drumnadrochit and Inverness were in attendance shortly after noon yesterday.
In a social media post yesterday John MacDonald, deputy chief officer of the Scottish Fire and Rescue Service, said: "We have seen real progress being made overnight and into this morning as fire crews continue to extinguish hot spots.
"(We) still have four fire engines, water carrier, Argo cat and control unit in attendance and a helicopter on standby.
"Mother Nature is assisting us greatly with the rain."
At the height of the blaze more than 50 firefighters were in attendance bringing the inferno under control.
The incident was first brought to the fire service's attention at 12.04am on Saturday morning.