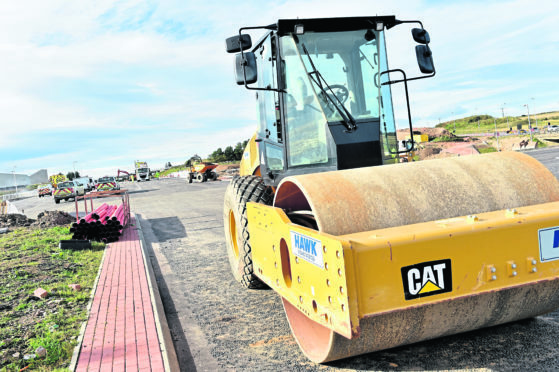 Job adverts have been discovered offering labourers "lethal" 80-hour working weeks on the Aberdeen bypass.
Employment agencies have been spotted offering the mammoth shifts as the autumn completion date for the behind-schedule project looms closer.
The Scottish Government has now been urged to launch an investigation into the practices on site.
One of the adverts was for a wheeled excavator driver to work "up to 15 hours a day plus weekends for 10-15 weeks" while another sought drivers to work for "70-80 hours a week for a six to eight week period".
Steve Dillon from Unite the union said: "The latest revelations about the Aberdeen bypass project are disgusting, such long hours are lethal.
"Workers cannot work safely undertaking such long hours, this is exactly how mistakes occur and too often result in tragic accidents.
"This is the latest scandal to hit the troubled Aberdeen bypass and the Scottish Government and the Health and Safety Executive simply can no longer sweep these problems under the carpet.
"There must be an immediate investigation into what is occurring and if necessary work should be stopped to ensure that safe, legal processes are in place."
The work on the bypass is conducted by Aberdeen Roads Limited, a consortium of Balford Beatty and Galliford Try.
Mr Dillon added: "Balfour Beatty and Galliford Try must be held fully accountable for these adverts, it is their project and they can't try to pass the blame onto others.
"To suggest they don't know what is happening on their own site is simply not acceptable."
North-east Labour MSP Lewis Macdonald said: "This is supposed to be a flagship infrastructure project – and so should be the gold standard in terms of health and safety as well as the conditions for workers on the project.
"But testimony from workers on the project tell an entirely different story – and these adverts will only reinforce those reports."
Representatives from Transport Scotland, which contracted Aberdeen Road Limited to build the AWPR, met with Unite last night to discuss the claims.
A spokesman said: "No roles of this description have been placed by the contractor online or anywhere else.
"As soon as it became aware of the advert, the recruitment agency was contacted and requested that the advertisement be removed.
"The contractor has also confirmed that its directly employed staff and operatives work to standard terms and conditions and any overtime is undertaken on a voluntary basis."