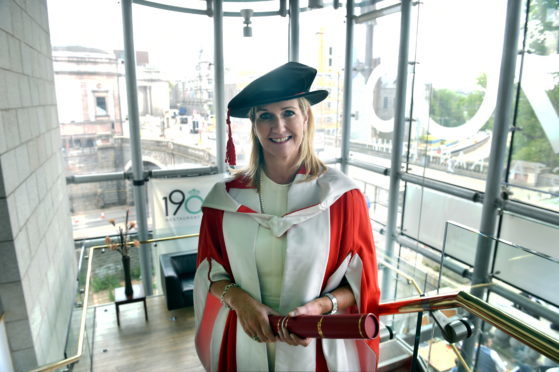 Most university students will don their cap and gown and experience the grandeur of a graduation ceremony just the once.
But yesterday, 36 years after first gaining her degree from the Robert Gordon University in Aberdeen, Jennifer Craw attended her fourth such occasion.
This time, it was especially significant as she was made an honorary doctor of business administration by her alma mater in recognition of her contributions to the region since then.
Mrs Craw has "blazed a trail" for women in the world of business and has served as chief executive of the Opportunity North East economic improvement group since 2015.
Her voice cracked with emotion as she began a speech during which she described her parents' pride in she and her sister being the first in the family to graduate.
Celebrating the moment afterwards with her husband and children, Mrs Craw said she had been "surprised and honoured" when she learned about the doctorate.
She added: "You feel like your degree is in recognition of your academic efforts, but this recognises the work you do beyond that and the contribution you have made to your community."
The mum-of-two graduated with a degree in nutrition and dietics at the Beach Ballroom in 1982, gained a postgraduate diploma shortly after and secured a diploma in management studies in 1987.
She initially worked in nutrition before entering the world of business by taking on senior marketing roles in the food and drink industry.
From 2002 to 2008, Mrs Craw helmed Scottish Enterprise Grampian and led food, drink and energy teams.
As the chief executive of Opportunity North East, she is tasked with securing the future of the area's energy industry and helping to grow its tourist, food and agricultural sectors.
Mrs Craw was on RGU's board of governers for eight years and became its first female head from January 2014 to December 2016.
Introducing her to the stage, Professor John Harper described Mrs Craw as "a trailblazer for women".