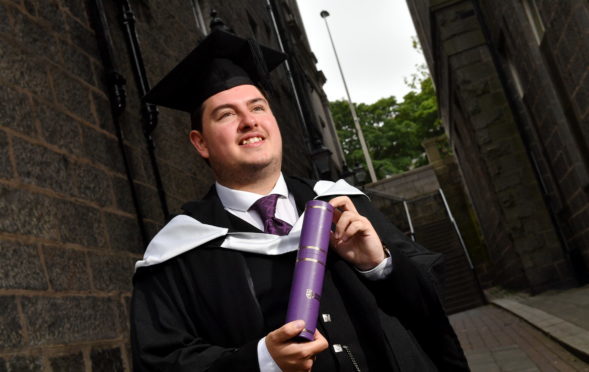 The triumph of winning an election to be crowned student president was tragically marred for Edward Pollock when his dad died that same day.
Instead of celebrating his success, Mr Pollock jetted to Dubai to say a final farewell to his father.
But the events management student – who had already lost his mother – did not arrive soon enough to see his dad one last time.
Mr Pollock, now 23, persevered through his course and achieved some huge success as student president despite the setback.
And yesterday, when he took to the stage at His Majesty's Theatre to collect his first class honours degree, he received the loudest crowd cheer out of the hundreds of young people who graduated.
Mr Pollock said: "I've had the best time at university, but it certainly was difficult.
"My mum died when I was a teenager and my dad died on the same day I won the election in 2015.
"He was in Dubai, where I had lived with him for six years, so I flew right there when we knew he hadn't long left but I never got there in time to see him."
Mr Pollock helped bring about a raft of improvements as student president, as he came to terms with the loss by throwing himself into university life.
He helped spearhead the creation of a safe taxi scheme where people could pay for a taxi using their student card and return the money to the university at a later date.
And, after canvassing opinion, he led a huge timetable change by bringing all exams forward to before the Christmas break.
He added: "The exams had taken place in January for 15 years, but the students wanted a change."
Mr Pollock aims to one day set up his own events management company.