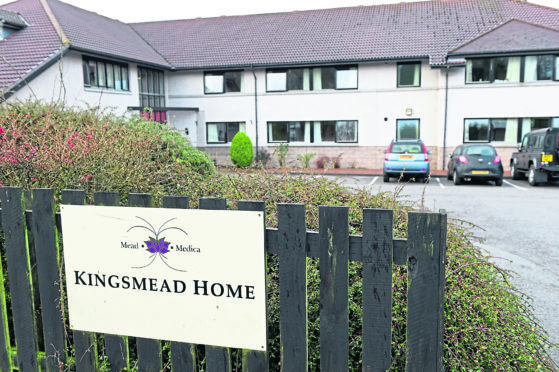 North-east health bosses have backed the creation of a ground-breaking new care home for dementia sufferers in Kingswells.
The facility will be based at the former Kingsmead Nursing Home and will be painstakingly designed to provide the highest possible level of care for people with the condition.
It will have a specific remit to demonstrate how best to improve the lives of the increasing number of people living with dementia in the region.
And it's hoped the centre will become an inspiration for further new facilities across the country.
At a private meeting of the Integrated Joint Board in May, the health organisation issued a directive to Aberdeen City Council to purchase the former care home and the decision was approved by the local authority earlier this month.
The nursing home was criticised in a damning report by the Care Inspectorate, who revealed "significant concerns" over the treatment of patients with issues such as dementia and Alzheimers, following a visit at the end of 2016.
That led to it being taken over in March, 2017 by Bon Accord Care, who started running the home on behalf of Aberdeen City Health and Social Care Partnership.
The IJB is providing the capital funding costs for the project, but it's hoped the newly-titled Kingswells Nursing Home will be open as soon as possible.
There are 90,000 people living with dementia in Scotland and it is now estimated that 20,000 people will be diagnosed with the condition every year by 2020.
The Press and Journal has been told the purchase price is confidential, given it is a commercial transaction with a third party.
But both local authorities in Aberdeen and Aberdeenshire and IJB members believe the initiative represents a positive step forward.
Sarah Duncan, the vice chair of Aberdeen City Health and Social Care Partnership said: "The purchase of Kingsmead Care Home will give much-needed additional capacity in the city for people with severe dementia.
"This should mean more options to discharge people quickly from hospital and more respite care, which is so important for families and carers.
"I am excited by the work being done by Bon Accord Care and the IJB to explore different ways of providing care at the home through multi-disciplinary teams.
"People with dementia are entitled to lead dignified, fulfilling lives in a safe environment and I hope that Kingsmead becomes an example of best practice in this area."
The news was greeted positively by Jim Pearson, director of policy and research for Alzheimer Scotland.
He said: "We welcome the positive progress made by The Aberdeen Health and Social Care Partnership to introduce a dementia-friendly care home environment for residents.
"Over two-thirds of people in care homes have dementia, and around a third of care home residents will have advanced dementia.
"A fully integrated, coordinated approach to care and support, provided in an environment that reflects dementia-friendly design, is vital in ensuring a good quality of life for people with advanced dementia.
"We hope that more plans for residential care facilities recognise the complex needs of people with advanced dementia and adopt this approach going forward."