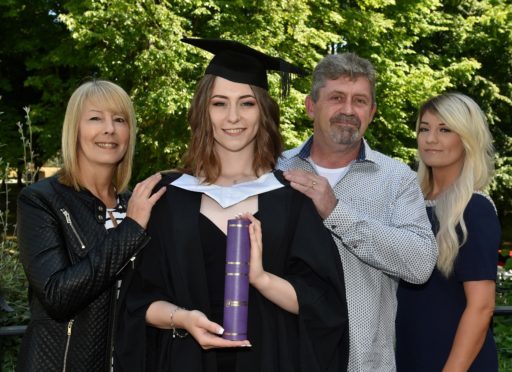 For one Aberdeen student, graduating from RGU yesterday was a dream 15 years in the making.
Jade Gilbert, 22, left His Majesty's Theatre with a first class honours degree in Contemporary Art Practise.
The former Northfield Academy pupil first heard about Gray's School of Art when she was just seven years old.
She said: "When I was growing up, I had one major passion that surfaced through every movement and every decision that I made throughout my life. I was inherently passionate about art.
"Seeing this, my mother would tell me all about this place solely dedicated to art. Being only seven-years-old I heard the name 'The Gray's School of Art' for the first time.
"Although at that age I knew nothing more about this place, other than it being my idea of heaven, I decided to make it my goal."
In her sixth year of high school she was so committed to her dream that the only university she applied for was RGU.
She said: "My time here has been an emotional rollercoaster. It's been an amazing experience, a lot of fun and hard work with many amazing memories and moments I will carry with me for life.
"One of the main reasons I wanted to go to university was that I battled the stigma throughout my life that art and the creative arts isn't an area that is easy to develop a career in.
"I wanted to make my passion a reality and a foundation for a positive future. I wanted to live my life knowing I did something I was passionate about and loved."
Miss Gilbert has plenty projects in the works now she has graduated, including working on a £2,000 sculpture commission for Aden Country Park.
She also hopes to help promote teaching and education based projects throughout Aberdeen City and Aberdeenshire.
"I'm keeping my doors open and looking forward to recharging and taking a fresh perspective on my future with art," she said.