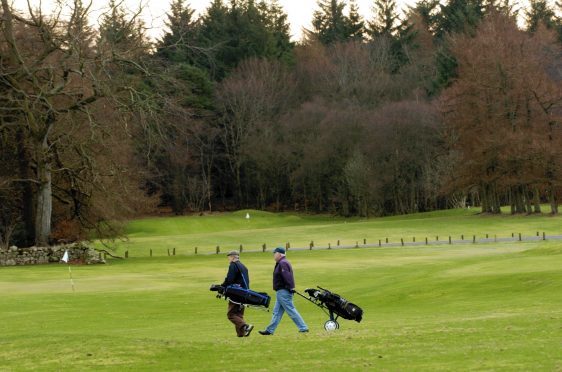 An Aberdeen golf course is to close to the public until April 2019 to allow it to recover from the damage caused by repeated flooding.
Significant investment is being made in Hazlehead's MacKenzie championship course, the only public championship course in the north-east.
It will undergo ten weeks of drainage works in a major effort to protect it from future damage and "reduce days lost" as a result of bad weather.
Once those works are complete, the course will remain closed until next year in a move that is considered essential but which has dismayed local councillors.
Last night in a written statement course operators Sport Aberdeen, who manage the course on behalf of the council, said that "significant capital investment" would be made.
But after sending out their statement, Sport Aberdeen did not respond to emails or phone calls to say how much that "significant" investment is.
They were also unable to respond to concerns there had been little prior warning.
It is understood, however, the works could cost in the region of £200,000.
They have been made essential by the flooding that has blighted the course in recent years. Heavy rainfall last year led to significant damage.
The statement from Sport Aberdeen said the work would focus on "addressing underlying drainage and associated water-logging issues to key holes and areas of the course".
Those specific areas of concern were identified by an independent consultant.
Chairman of Sport Aberdeen, Colin Taylor, said: "The capital works represent a significant investment by Sport Aberdeen to enhance the playability and conditioning of the course, which will reduce days lost as a result of bad weather.
"We fully appreciate the inconvenience that this improvement work will cause, but it is important that we protect the investment we are making and allow the ground in the affected areas to recover and for new growth to bed in.
"We are pleased to be working in partnership with Hazlehead Golf Club on this project to maintain the integrity of this iconic golf course.
"It will strengthen our golf offering and signify our commitment to investing in the sport and leisure facilities within the city".
Hazlehead, Queens Cross and Countesswells independent councillor Jennifer Stewart said she was "disappointed" that local members had not been kept better informed of the planned development by the arms-length council body.
She said: "It is quite frustrating that we are only being informed of this through the press.
"However any investment must be welcomed even if we are not sure how much it is.
"There have been a lot of problems with drainage there so it will be great if this issue would be solved."