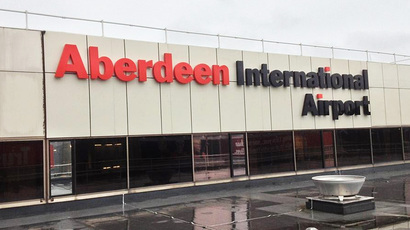 Scores of holidaymakers have had their plans thrown into turmoil after workers at the north-east's biggest airport "overwhelmingly" rejected an increased pay deal aimed at averting a strike.
About 170 employees at Aberdeen International Airport have vowed to walk out for 24 hours on Friday, and twice again next month, after turning down a new pay offer.
Following hours of negotiations on Monday, airport chiefs tabled an increased pay rise in the hopes of preventing operations at the facility from being plunged into disarray.
Last night, union bosses confirmed that furious members had deemed the offer "pitiful".
The renewed offer of a 2.8% pay rise was discussed amongst employees throughout yesterday before a consensus was reached.
Unite the Union regional officer, Tommy Campbell, revealed that much of the workers' discontent was based upon not being given the same 3% increase as their counterparts in Glasgow.
Mr Campbell said: "The latest pitiful effort to end this dispute has been overwhelmingly rejected.
"The management seem intent on causing widespread disruption to their operations – and the public – by not being prepared to give our members the same pay award as the workforce at Glasgow International Airport, which is owned by the same parent company.
"The workers and the public will be baffled as to why airport management are refusing to pay an extra 0.2% to end this dispute and in doing so will cause more financial harm and damage to their reputation.
"Unite remain open to further discussions with a view to resolving the dispute if the company start to behave responsibly.
"If they do not, then our members will have no option but to proceed with industrial action."
However, a spokesman for the airport said that bosses "remain optimistic" that matters can be resolved without passengers facing any disruption.
He said: "Talks with staff representatives concluded in a positive place on Monday following a much improved offer and we are extremely disappointed to have had our latest pay proposal rejected.
"We are in ongoing discussion with Unite and remain optimistic that we will resolve matters without any impact on operations."
Aberdeen International Airport is owned by AGS Airports which also runs airports in Glasgow and Southampton.
Affected workers include those in security and airfield operations, airside services, firefighters, operations officers and passenger service agents.
The strikes are planned for this Friday, Thursday, August 2 and Thursday August 16.