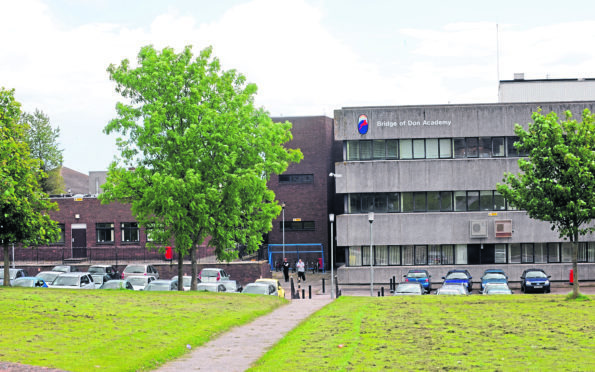 A full investigation will be carried out after concerns over asbestos contamination was discovered in an Aberdeen school.
Workers carrying out security improvements at Bridge of Don Academy discovered the harmful substance within a corridor last week following the removal of a wall panel.
Representatives from the trade union Unite now fear the staff could have made contact with the material and have called for the city council to carry out an inquiry.
The suspected substance was first found on July 12, but the local authority confirmed it was asbestos yesterday afternoon.
The area has now been sealed off and the material has been taken away for examination.
Unite regional officer Tommy Campbell said: "There is great concern that workers could be contaminated with a potentially dangerous substance and if the full health and safety procedures relating to suspected asbestos exposure were not followed by management, then these workers have left the site and run the risk of contaminating other workers and members of the public.
"Unite representatives have repeatedly made our health and safety concerns known about previous potential asbestos exposure incidents.
"It beggars belief that we have yet another potentially serious situation where the management have failed to respond properly in line with health and safety regulations and follow their own policies and procedures.
"Unite is demanding a full and transparent investigation should be carried out by the HSE given the number of serious complaints the union has had to make over the past year to Aberdeen City Council."
A spokesman for Aberdeen City Council said the Health and Safety Executive has been informed of the incident.
He said: "On Thursday July 12 a potentially harmful material was disturbed within a corridor at Bridge of Don Academy where work to improve security was being carried out during the school holidays.
"The area involved was made safe and sealed off and the material removed for examination.
"The material has now been confirmed as asbestos.
"The Health and Safety Executive is being notified and Aberdeen City Council is to carry out a full investigation."