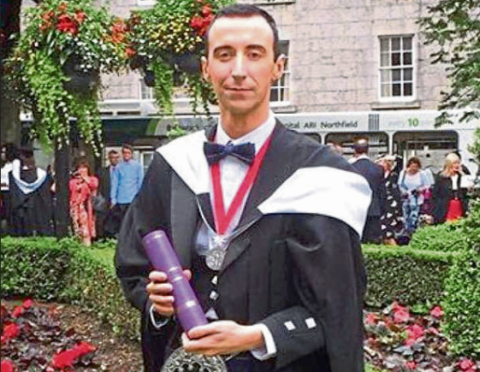 An award-winning former student university president has been fined for being in possession of child pornography.
Steven Mills has held various executive positions at the Robert Gordon University Union since 2013, including student president.
In April the law and management student stood in the election for the role of education and welfare president, a role which he had held previously.
He led his campaign with the motto "bring back the welfairy" – a nickname he used while in the role previously – and his manifesto used an acrostic of the word "represent" to highlight his campaign aims to "protect", "support" and be "transparent".
Mills also cited his experience with equality, LGBT+ and mental health wellbeing campaigns as well as a drive to provide free condoms to all students.
In 2015 he was named Volunteer of the Year by the Nightline Association for spending more than 1,000 hours setting up a night-time helpline for troubled students.
Last week he appeared at Aberdeen Sheriff Court on two charges relating to child pornography, first discussed in court in March, and for a review of a previously-issued community payback order.
Between February 23, 2015 and June 28, 2017 he was found to have been in possession of indecent photographs or pseudo-photographs of children.
Mills was also found to have distributed or shown these images to others between May 1 and May 24, 2017.
His defence agent Liam Mcallister told the court that he had been keeping in "consistent contact" while progressing through his unpaid work, and had completed at least 65 hours of it.
Sheriff Jack Brown ordered him to pay a fine of £100 for each charge, payable at a total of £20 per month.
He also instructed Mills to return to the court in three months for a further review of his progress.
Robert Gordon University declined to comment.