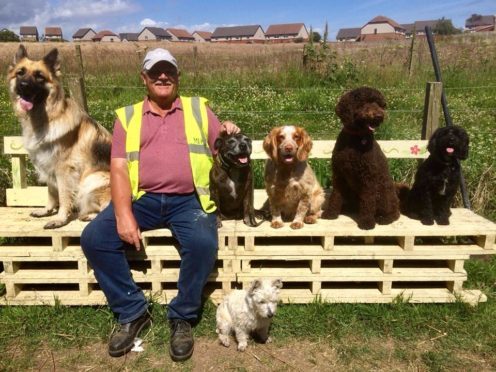 A green-fingered volunteer has been nominated for a prestigious award after sprucing up a community's open spaces.
Mike Duncan has been hard at work on the one-mile Cove Woodland Walk in Aberdeen for the last four years.
The path, to the east of the suburb, had become unruly after decades without maintenance.
And leading a team of volunteers, Mr Duncan has transformed it into something usable.
He has built new benches out of old crates and recycled cable reels into colourful tables and flower planters dotted across the stretch.
Mr Duncan has now been nominated for the Community Path Volunteer of the Year award, which will be handed out by walking charity Paths for All in September.
He said: "I always looked back fondly on when I used to take my grandchildren onto the walk about 20 years ago, but when I went back onto the walk four years ago I was disappointed at how neglected it was.
"So I decided, with help, to try and restore it to it former condition – and the project quickly went from strength to strength.
"So far, the biggest reward has been seeing people's reactions and seeing this beautiful outdoor space become a popular place for dog walkers, runners and children playing once again."
Mr Duncan was nominated for the award by Wendy Suttar, who has worked alongside him on both the walk and various Cove in Bloom projects.
She said: "None of this would have happened without Mike. It was a very daunting task to take on but he rose to the challenge.
"Mike and his team worked tirelessly to bring their vision to life – he's a pillar in the community."