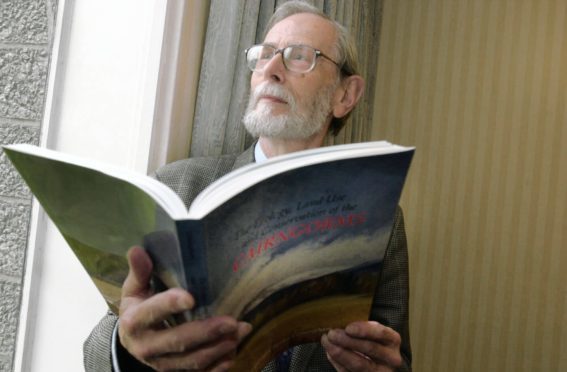 A world-renowned north-east ecologist and conservationist has died at the age of 95.
Charles Henry Gimingham was hailed as a leading expert on heather and moorlands, and used his knowledge to contribute to major government studies and research programmes over his decades-long career.
Born in Leamington Spa in 1923, he first studied at Emmanuel College, Cambridge before spending a year as a research scientist at Imperial College, London.
He then moved to the north-east where he spent the rest of his life, met his wife and started a family.
Prof Gimingham started working in the Aberdeen University botany department in 1945 and was made a senior lecturer in 1961.
As he conducted his pioneering work, he travelled to far flung locales including Libya, Japan and the Antarctic, and wrote a number of texts which became standard across the plant science sector.
The professor also developed a research programme on the Muir of Dinnet near Balmoral, which was opened as a National Nature Reserve by the Duke of Edinburgh in 1977.
Later in his career he became a Fellow of the Royal Society of Edinburgh, was given a DSc from Cambridge and in 1990 was made an OBE.
In 2008 Prof Gimingham became just the third person to be given a prestigious award which was first bestowed upon Sir David Attenborough.
He was presented with the Institute of Ecology and Environmental Management Medal for his pioneering work in heath and moorland management.
Outside of his ecology work, Prof Gimingham was passionate for travel and photography.
He was a regular at St Machar's Cathedral, where he was the church's longest-serving elder.
Prof Gimingham married his wife Caroline, the daughter of St Machar's Cathedral minister John Baird in 1948, and they had three daughters: Alison, Anne and Clare.
Following his death on June 19, his family penned a heartfelt tribute to him.
They said: "We consider ourselves very fortunate that while growing up we were lucky to see a lot of our father.
"He was always there at mealtimes, he helped with homework, was a willing model for our first aid practices, took us swimming in the university pool every Saturday, helped us develop our own little patches of garden, and of course we all accompanied him a number of times on student field trips.
"We learnt from being with him, whether at home, on holiday or in church.
"If we needed advice we could be sure of him setting time aside to give the question or problem 100% of his wisdom."
They added: "We missed him a lot when he went to the Antarctic – but to keep us company in his absence we did hire our first TV whilst he was away – and we loved his cine films of elephant seals fighting, and penguins sliding down snow slopes into the sea.
"We have lots of really lovely memories of dad.
"We feel very privileged to have had such a father and to have had him for so long."