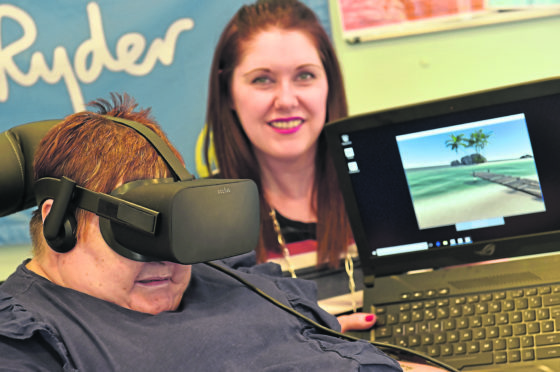 Sue Ryder's centre at Dee View Court in Aberdeen already looks after 22 people with a range of severe neurological conditions.
And now, residents are being offered the opportunity to use an innovative virtual reality therapy, which allows them to immerse themselves, via VR headsets, in all kinds of different worlds.
The possibilities are endless for those with access to the technology: they can be on a beach, in a jungle or even scuba diving underwater.
The initial feedback has been extremely positive, following the arrival of the equipment for the residents who suffer from such conditions as motor neurone disease, severe stroke, acquired brain injury and Huntington's disease.
Indeed, nurse-led evaluations of those employing the VR therapy has highlighted marked reductions in blood pressure and pain levels among those who have undergone the new treatment.
And it has proved such a success that the VR system is now being rolled out across Sue Ryder's network of neurological facilities throughout the UK.
Louise Torrance, head of care at Dee View Court, said yesterday: "From looking at everyone who has used the technology, straight away we can see that their moods are being uplifted.
"They are being taken to a happy place where they are more relaxed with lower blood pressure levels.
"This is extremely encouraging and comforting, not just for the service users, but for their families and the staff as well – it is wonderful to see."
Kathleen Robertson, one of the residents at the centre who has multiple sclerosis and uses the virtual reality regularly, is among those who spoke highly about its therapeutic benefits.
The 65-year-old said: "It feels like I am actually at the beach. I can see the sky, the seagulls and the sea looks so inviting that I want to go in for a paddle.
"This is amazing for people like myself who use a wheelchair, because it gives us the opportunity to experience places that it's tricky or impossible, for us to visit in real life."
Dee View Court is currently fundraising to create a new £3.9m expansion of the existing facilities.
So far, the charity has amassed more than £2.3m of its target.
If you would like to find out more, click on to www.sueryder.org/deeviewappeal