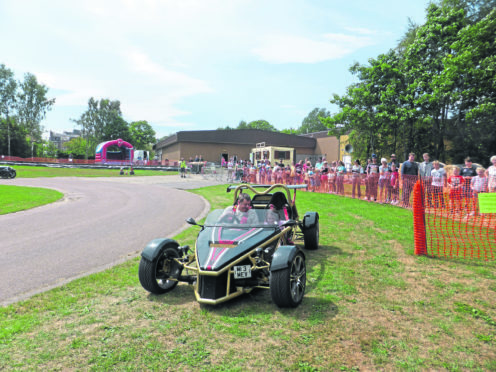 A fleet of vintage vehicles made their way to the Grampian Transport Museum yesterday for some family fun.
The Alford attraction's popular Ride On event gave owners the chance to put their prized motors through their paces on the circuit.
Visitors young and old also then were given the chance to hop inside their choice of car for a lap or two.
As they whizzed around the circuit, they found out more about the various vehicles they were in.
Over the summer the museum staff have been hosting a number of quirky car showcases.
Neil Thompson, one of the event organisers, said: "This Ride On event had no theme, it was just a collection of interesting and fun cars for the children to drive in.
"It was extremely hot yesterday but we had a light breeze which was nice. We were really fortunate to avoid the rain and thunder.
"We had quite the selection of cars at the event.
"A stand-out was certainly a really nice 'rocket' car, a two-seater car with no body. It was pretty original and people loved it.
"The car's owners kindly give their time and donated their vehicles for others to enjoy yesterday. I can't thank them enough for helping make the event a success."
Other cars included a McLaren, an Austin Healey and a Thomas the Tank engine land train.
To add to the variety of vehicles, the museum also brought out their Dennis Fire Truck from one of their displays to add to the fun.
The next Ride On event will take place on August 2, with emergency vehicles on offer.