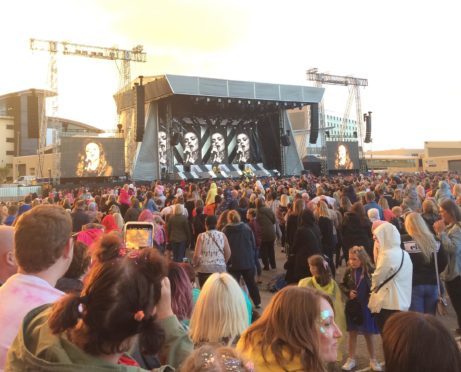 North-east politicians have called for an investigation into the "absolute chaos" that descended on a major Aberdeen concert at the weekend.
Chart-toppers Little Mix played to a 15,000 strong crowd at the Aberdeen Exhibition and Conference Centre (AECC) in Bridge of Don on Saturday night.
But after the impressive outdoor show, panicked fans began to be pushed up against security fencing as rain fell.
Some grew impatient and began to clamber over and under the fences, risking being crushed, while others were prevented from entering the main AECC building as they sought shelter.
Many gig-goers reported a "stampede" and people being "really panicked", prompting calls for a probe into security and what may have gone wrong.
Aberdeen Donside independent MSP Mark McDonald was at the concert with his daughter and has written to the managing director of the AECC, Nick Waight, calling for an investigation ahead of the opening of the AECC's £333 million replacement in Bucksburn next year.
He said: "Aberdeen should be aspiring to host these sorts of major events but in the future it is very clear the management of the crowd as they come to an end needs to improve.
"People were left to make their own way towards the exit and as a result the crowd was too large for the gap that had been created in the fencing.
"There was no attempt to funnel the crowd to avoid people being up against the fence and trying to get to the exit point.
"It was extremely fortunate that the anxiety and frustration being experienced by the crowd did not lead to a crush.
"There was a total absence of any stewarding or security at the exit."
Licensing convener John Reynolds, who is also a councillor for Bridge of Don, said: "My concern is that this could have been something major.
"Had there been a bomb scare or a fire people would have had nowhere to go."
A spokeswoman for the AECC operators SMG Europe said 172 security were onsite, along with paramedics.
She added: "There were no injuries and no calls for police or further interventions as a result of this isolated incident.
"We apologise to those affected and want to reassure people that the exit strategy was planned and prepared in advance of the show in collaboration with all blue light services, Aberdeen City Council environmental heath officers and Showsec Security.
"They all attended pre-show walk-rounds and planning meetings covering the event safety."