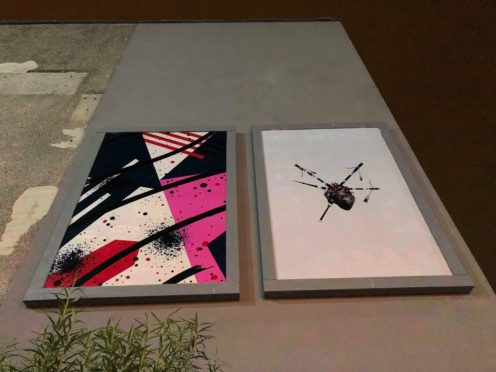 Two billboards installed as part of this year's Nuart Festival will celebrate the links between Scotland and Norway.
The Nuart Twin Billboards will showcase street art from different artists from every few months.
Nuart bosses hope the project will improve the link between the town of Stavanger in Norway and Aberdeen, friendship cities with close ties in industry, and, hopefully, soon art.
Since 2001 the Nuart Festival has been held annually in Stavanger, Norway and is considered the world's leading celebration of street art.
The Nuart Twin Billboards will be seen from the Union Square's Market Street car park, and the first pieces has already been unveiled this week.
One of the artworks is by Naeem Searle, from Norwegian art company NIMI, who produced the mural depicting the Green Lady of Crathes  on Union Row in this year's Aberdeen Nuart festival.
The second artwork is produced by Katie Guthrie, a resident artist and illustrator who has focused on exhibiting, mural design and commercial projects.
She said: "After having a great time working with NIMI during Nuart festival earlier this year it's awesome to have the opportunity to display work alongside his.
"One of the best aspects of NUART is the opportunities it's brought local artists to meet and form friendships with visiting artists, as well as strengthening our relationship with Stavanger and the Nuart festival there, which I know a fair few of us are planning to visit in September."
The artwork will change on a rotating basis every few months with different work from artists across the globe.
Adrian Watson, chief executive officer at Aberdeen Inspired said: "To be able to keep the momentum of this year's Nuart Aberdeen festival going throughout the year is a unique opportunity.
"Being able to offer the chance for local and national artists to submit their artworks and for residents and visitors to be able to enjoy a new artwork every few months only builds on the wonderful legacy that is being created and adds to the appeal of the festival as a whole.
"Preparatory work has already started for the 2019 edition of the festival."