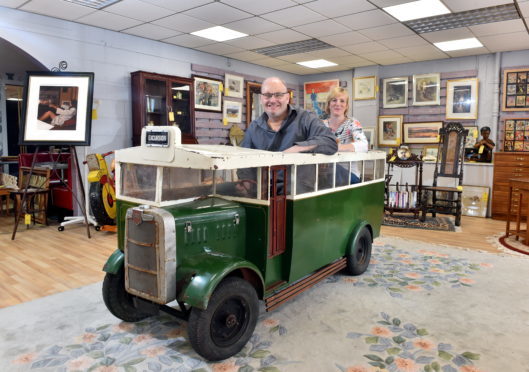 Car connoisseurs are being asked to help an Aberdeen charity unravel the history of its newly-purchased mystery machine.
Smile Scotland staff hit the road and travelled to Brighton to collect the antique miniature coach last week and are hoping to uncover its heritage before they gear up to sell it.
The tiny replica bus – in the classic Aberdeen Corporation Transport colours of olive and cream – houses a working diesel engine and steering system.
Charity co-founder Clive Hampshire suspects that the decades-old single-decker may have been built in the north-east, but the lack of solid information is beginning to grind his gears.
He said: "I was bored and looking on ebay one night and then I spotted this bus in Brighton.
"There had been a lot of interest, so I phoned up and we agreed a price, then made the 14-and-a-half hour drive to collect it.
"There have been similar buses in Arbroath for the last 50 years or so and this one seems to be professionally made – so I'm wondering if it is possibly from up here."
The bus – which has more than 3,100 miles on the clock – has already attracted dozens of visitors to the charity's Broomhill Road storefront and generated further inquiries from potential buyers.
And Mr Hampshire has discovered that, despite the bus's age and some signs of rust, its wheels do still go round and round.
He said: "It has plenty patina but nothing has seized up and it seems to work well.
"I'd love to know about where it's from and if it originated in Scotland.
"So I am hoping that some of The Press And Journal's readers will know more about this."