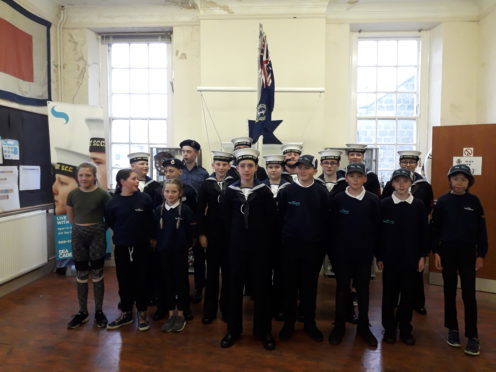 A "dedicated" teenager is planning to cycle the width of the country to help his Sea Cadets unit buy a much-needed minibus.
Setting off from Oban, Liam Grant will traverse the Great Glen Way and Cairngorm National Park as part of his 300 mile expedition to Aberdeen.
The 13-year-old was hoping to contribute £500 towards the fundraiser, but has already received more than double that figure from kind-hearted well-wishers.
Liam said: "Sea Cadets has given cadets like me real opportunity to gain life skills both on and off the water.
"We also have opportunities to attend offshore voyages and various training weekends to develop our skills."
He added: "I am doing this cycle as I would like to help raise funds towards a much-needed new minibus to help our unit transport cadets to the various activities that we do.
"Without our minibus we would be unable to attend Peterhead during our boating season, and travel to other courses, activities and competitions throughout the UK."
The youngster will be joined on his adventure by proud mum Siobhan.
She said: "The Sea Cadets give Liam a focus and have been the catalyst to give him the confidence to do things like this.
"The opportunities it afford him are absolutely fantastic.
"All the leaders are volunteers but give so much of their own time over weekends and in evenings to train them and do activities.
"I can't praise the unit enough."
Mrs Grant added: "It can be difficult to raise money for causes like this sometimes.
"People can be reluctant to give money to a cause that won't directly benefit them or someone they know, but this minibus will really be a lifeline for the sea cadets.
"They have all been saving for this really hard over the years.
"I hope folks can get behind the cause and help them out."
So far the Bridge of Don Sea Cadets have raised £4,000 towards the bus.
Chairman John Digby said: "It is remarkable that young Liam has decided to raise funds to go towards purchasing  a new minibus for the unit.
"Liam has been with the Bridge of Don unit for a few years and has developed into a confident and dedicated cadet.
"His decision to take on this challenge demonstrates this and his effort will be greatly appreciated by everyone at the unit including his fellow cadets.
"We wish him and his mum a safe journey and all the best."
To donate visit
justgiving.com/fundraising/liamrgrant