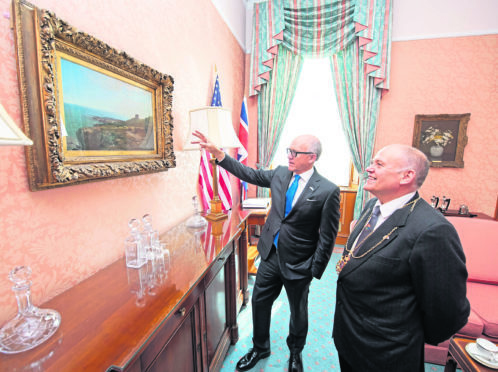 The American ambassador to Britain jetted into the north-east yesterday to visit key industries in advance of Brexit.
Multi-billionaire businessman Robert Johnson was appointed as US ambassador to the UK by President Donald Trump.
During a packed day of events, Mr Johnson started with a visit to Peterhead fish market before hosting a roundtable meeting with oil industry leaders.
He subsequently went on to to meet Lord Provost Barney Crockett at Aberdeen town house where the stars and stripes hung proudly outside – the first time the flag has ever flown from the building.
In an exclusive interview with the P&J, Mr Johnson described the Lord Provost as a "really cool guy" and described Aberdeen as "a beautiful place".
He continued by saying that if technology is widely introduced to the Scottish fishing fleet, it could become an "unbelievable growth area".
He added: "(The fishermen) felt they were left out of the equation 40 years ago when their rights were given away and now they have an opportunity to take back some of their ancestral waters."
Mr Johnson is optimistic that confidence is returning to the beleaguered North Sea oil and gas industry.
As he stated: "They say that these fields are declining but the numbers don't show it, it is about the same amount coming out.
"(Firms) are becoming a lot more efficient and effective at getting these wells to produce more…they said there is an enormous amount of oil that is there and they are figuring out how to get it out effectively.
"I know (the industry) was hit really bad in 2014. That was a wake-up call.
"Their costs are coming down pretty dramatically which I think you should feel very good about."
Turning to the impact of Brexit, the ambassador said: "We fought the American revolution and I think this is a similar thing.
"I think it will be a great thing if you get a bilateral trade deal with the US – which the president wants and he must have said it a hundred times."
Mr Crockett responded: "I think we have started to build a really important relationship between the city and the ambassador."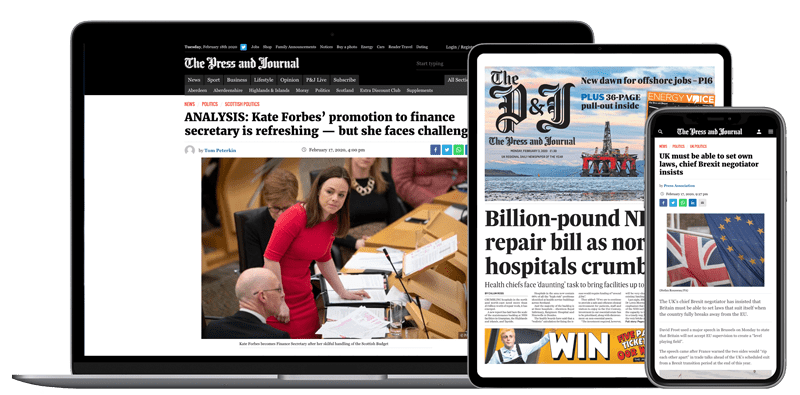 Help support quality local journalism … become a digital subscriber to The Press and Journal
For as little as £5.99 a month you can access all of our content, including Premium articles.
Subscribe