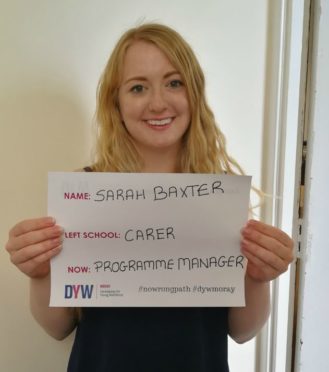 Thousands of young people throughout Scotland will be anxiously awaiting their postie this morning, as exam results are mailed out across the country.
The Royal Mail are delivering around 135,000 exam certificates on behalf of the Scottish Qualification Authority (SQA).
National, Higher and Advanced Higher results will be issued as well as awards in Skills for Work courses, National Progression Awards and National Certificates for Scottish students.
For many, the envelopes dropping through letterboxes could decide whether they will be heading to universities, colleges or moving onto apprenticeships.
No matter the results, however, pupils are being urged not to become downhearted should they not be as hoped or expected.
North-east employment organisation DYW Moray is a Government-funded group whose role it is to strengthen links between young people and businesses and help them into work.
The agency also promotes alternative routes into the workplace, proving that higher education is not the only option.
Sarah Baxter, manager of the service, said: "Today is possibly one of the biggest turning points in a young person's life and the message that we want to get across is that while exam results are important, it's not the be all and end all.
"DYW Moray works with many businesses across the region who offer a variety of opportunities to young people such as apprenticeships and work placements."
The organisation's assurances have been echoed by Deputy First Minister John Swinney, who said: "Exam results day may be the culmination of months of hard work but it is important to remember that, whatever the outcome, it is only the beginning of the journey to your chosen career.
"If you get the results you hoped for that is excellent but be assured that if you do better than expected, or you just miss out on the grades you need this time round, there are a variety of options available to you."
Local people have also been sharing their own experiences about life after school and their alternative routes to employment.
Alan James, 64, is the managing director of AJ Engineering in Forres and started out his career as an apprentice at 17.
He left school at 16-years-old and spent a year working on the family farm before starting his apprenticeship with William Reid Engineering.
He now runs his own Forres-based steel fabrication and construction company with a £10 million turnover.
His company currently has 14 apprentices working there and he was keen to stress about how many different employment routes there are.
Mr James said: "The work that DYW Moray is doing is so valuable and we are here to highlight that there are many other ways that young people can access the world of work without needing to go through a traditional route."
Julie Pirone, director of external relations at Royal Mail, said the service had been working with partners in 45 countries to ensure results reach pupils today.
She said: "This is a massive day for every pupil in Scotland, waiting for their results.
"All of our postmen and women, many of whom have children themselves, understand just how important this day is for families.
"Our postmen and women up and down the country pull out all the stops to ensure the results are delivered as quickly and efficiently as possible."
Skills Development Scotland (SDS) will be operating a dedicated line available for a week from results day to support young people.
It will be open from 8am until 8pm on Tuesday and Wednesday and from 9am until 5pm from August 9 to 15. The number to call is 0808 100 8000.