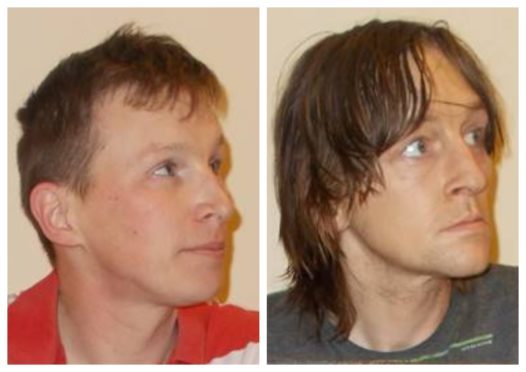 Two men have been jailed for a combined total of 17 years after being found guilty of carrying out an armed robbery at a north-east home earlier this year.
Slessor Buchan and Scott Fowler had gone on trial at Aberdeen High Court accused of targeting Colin Verral at his home on Gray Street in Fraserburgh in January.
The pair were accused of assaulting and robbing him as well as pointing a gun at him and shooting it into the ceiling.
During the course of the six day trial there was little doubt an armed robbery had taken place.
Forensics evidence showed a gun had been shot into the ceiling and the court also heard from LeeAnn Shaw who is currently serving a year in prison for taking part in the robbery.
Mr Verral, who claimed he passed out and did not know whether he was alive or dead during the incident, said the build of Buchan, 39, and Fowler, 37, resembled that of his assailants but was unable to say it was them.
Miss Shaw told the court she was rung and told to get the door open in exchange for drugs.
She said Fowler gave her a lift from a property on Gallowhill Road with Buchan in the vehicle but she got out on a nearby street alone and went to knock on the door.
She claimed after she did this three men, who she could not identify, jumped her from behind and carried out the robbery.
Giving evidence the two men launched a special defence of alibi saying they had dropped off Miss Shaw and driven on. Buchan said he had gone to Moray Street to purchase drugs form a property there.
The court also heard no guns or masks had ever been recovered in connection with the robbery.
The prosecution instead relied on circumstantial evidence to prove the guilt of the two men.
The court heard from Debbie Robertson, Buchan's former partner, who claimed he gave her a phone taken from the home of Mr Verral on the day of the incident.
Buchan claimed in evidence he had swapped it for drugs several days after the robbery.
And the court also saw a Facebook post of Fowler from the summer of 2016 wearing wrestling masks.
While giving evidence he said he had got rid of them late in 2017.
And yesterday the jury of ten women and five men took less than a day to find the pair guilty.
The pair showed no reaction in the dock at the verdicts were read out.
Following the verdict, Lord Uist said to the pair, who had been remanded in custody since being arrested in January: "You have both been convicted by the jury of an appalling assault and robbery of a man in his home in Fraserburgh in January this year.
"The most alarming aspect of this case is that you have a sawn off shotgun which has never been recovered.
"Only real criminals have sawn off shotguns."
He pointed to the pair's extensive criminal records, Buchan had 11 convictions mostly for drug related offences and Fowler had 24 including six for assault and one for assault and robbery.
He jailed Buchan, of HMP Grampian, for seven years, and Fowler, also of HMP Grampian, for 10 years.