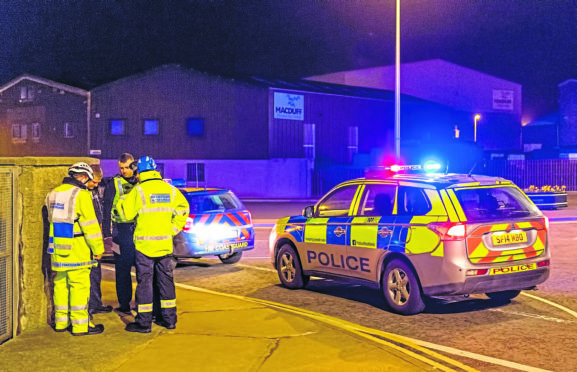 More malicious fake calls have been made to the Aberdeen Coastguard Centre than every other Scottish centre combined over the past four years.
Shock new figures released by the Marine Coastguard Agency shows there have been 50 False Alert, Malicious Intent (FAMI) calls made to the Granite City-based operation centre since 2014.
Over the same time period, there were 33 logged in Tayside, nine in Stornoway, three in Shetland, and three in Argyll and Bute.
And between January and June this year, there were already seven hoax calls noted at the Aberdeen centre – three more than the total recorded during the whole of 2017.
Anger after police release recording of 'reckless' hoax call which sparked a major search operation
Last night, anyone with information about "utterly idiotic" hoaxers were urged to report their suspicions.
Chris Thomas, deputy director of maritime operations with the MCA said: "If we get an emergency transmission, we always treat it as real.
"If we think someone's in danger or trouble, we will always search for them rather than risk loss of life.
"We would take this opportunity to remind people that making deliberate, false or misleading calls is against the law, and we treat it very seriously.
"We keep a record of these calls and hold those records as evidence for future prosecutions. Have no doubt – if you've been identified as making a hoax call, the MCA will seek to prosecute offenders to the fullest extent of the law."
In June, a hoax mayday radio message sparked a five-hour search involved lifeboat crews from Buckie, Fraserburgh and Macduff, coastguard teams, local fishing boats and a helicopter from Inverness.
The call reported three people were abandoning their boat off Macduff, and a recording released by police revealed the culrpit called: "mayday, mayday, mayday" and "abandon ship".
It was later confirmed as a hoax, and police revealed they believed it – and two previous malicious calls made in April and last November – came from the north Aberdeenshire area.
In 2015, Highlands man Alasdair Munro was jailed for four months after lying about a yacht being lost in the Highlands. He called the coastguard several times, claiming the boat was lost in Loch Hourn.
The authorities last night warned that hoax callers face up to six months in jail, and fines of up to £5,000.
Mr Thomas added: "Hoax calls have wider implications than hampering our coastguard operations centres.
"Rescue crews responding are placed at great risk – especially if the weather conditions are poor – as are other members of the public who may genuinely need our assistance."
Hoax callers also result in unnecessary costs for the RNLI – which, as a charity, depends on volunteers and donations.
A spokeswoman said: "Hoax calls waste the time and resources of both our volunteers and our partners in the search and rescue community, but they also endanger lives.
"In the event of a real emergency, life-saving resources are tied up elsewhere and may be unavailable to respond as quickly as usual."
Detective Sergeant Rhona Di Meola, who said investigations into the June call are still continuing, added: "Any report of a hoax call will be thoroughly investigated.
"Every false or inappropriate call takes up the precious time of the coastguard, and other emergency services, and prevents someone who really needs immediate help from getting it."
Politicians last night described the figures as "deeply disappointing" and the culprits as "utterly idiotic".
Aberdeen South MP Ross Thomson said: "It is deeply disappointing to hear that Aberdeen is subject to more hoax calls than the rest of Scotland combined.
"Our coastguard rescue crews do a tremendous job, responding quickly and professionally to emergencies.
"Malicious false alarms like this waste time, money and resources, but the consequences could be even more serious.
"It is no exaggeration to say that lives are being put at risk."
Kevin Stewart, Aberdeen Central MSP, added: "These calls to the coastguard are no different to hoax calls to any other emergency service. It takes vital resources away from where they could be needed and puts lives at risk.
"This is an utterly idiotic thing to do and could see those responsible end up in jail.
"We owe a debt of gratitude to those who respond to emergency calls and it is unacceptable that their time is being wasted by so many hoax callers."
Banffshire and Buchan Coast MSP Stewart Stevenson added: "The Aberdeen Coastguard responds to a high number of calls on a daily basis, with responsibility for reports from a number of sectors including the fishing industry and the North Sea oil and as sector, as well as individuals.
"Making false calls is despicable and wastes valuable time, money and resource which should be used to help provide support to the people who really need it."