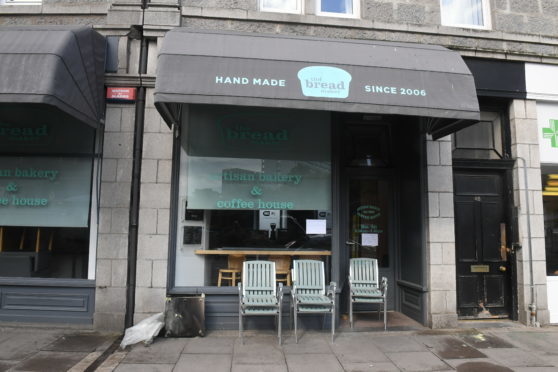 An Aberdeen bakery has been forced to close temporarily after its home was damaged by fire.
The Bread Maker, on Rosemount Viaduct, is expected to be closed "for the next few days", according to staff.
Firefighters were called to the bakery on Wednesday morning at around 4.10am, after an electricity panel caught fire.
No-one was injured but the damage was such that business is unlikely to return to normal until the end of the week.
Karen Bain, the development manager for the Bread Maker, said: "It was an electrical fire and we've been in to clean up. We hope to be up and running in the next few days.
"We've got a lot of people that we supply and we're trying our best to meet that demand, but obviously people aren't going to get as many orders and our client group isn't going to have anywhere to go for the next day or two, which is obviously upsetting for them.
"Hopefully it should be resolved this week."
The Bread Maker, a social enterprise, supplies many popular city lunch spots – including Upperkrust on the Upperkirkgate and Melt on Holburn Street.
On their Facebook page the bakery thanked the public for their reaction to the ordeal.
A staff member wrote: "The Bread Maker team would like to thank everyone for their many supportive messages and actions following our fire on Wednesday.
"We are extremely grateful for your support and understanding at this very challenging time.
"We continue doing everything possible to keep trade customers and clients informed.
Any with queries can contact the firm on 01224 608992.