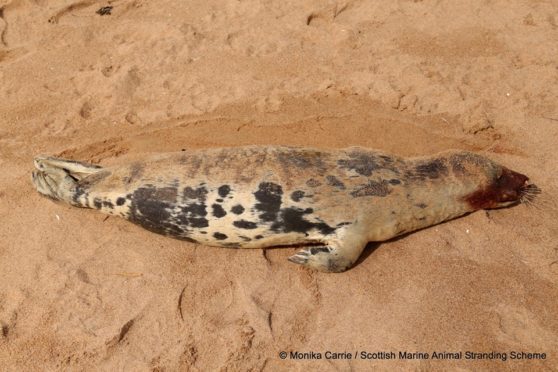 A lost Arctic seal has washed up dead in Aberdeenshire, hundreds of miles away from its home – the second of its kind to be found on the Scottish coastline this year.
The harp seal, native to the northern Arctic and Atlantic oceans, was discovered covered in sand on Balmedie beach on July 31.
The animal was collected by volunteers for the Scottish Marine Animal Strandings Scheme (SMASS) and is currently frozen at the Scotland's Rural College (SRUC) lab in Aberdeen awaiting autopsy.
In May, researchers from SMASS discovered another harp seal on Skye.
The Skye animal was found to have been starving when it died and a piece of plastic the size of a sweet wrapper was discovered lodged in its digestive system.
A statement from SMASS said: "The animal stranded on Balmedie beach was collected by two of our newly trained volunteers.
"This is the second harp seal stranding on the Scottish coastline this year, the other being an emaciated juvenile female that was found dead stranded on Skye at the end of May.
"Scotland is outside the normal range for this ice-associated species, although vagrant animals such as this have been recorded in the UK and even further south in Europe in the past on rare occasions.
"The animal from Balmedie beach is currently stored frozen at the SRUC lab in Aberdeen pending collection and necropsy and we will provide an update on findings once we have done the examination."