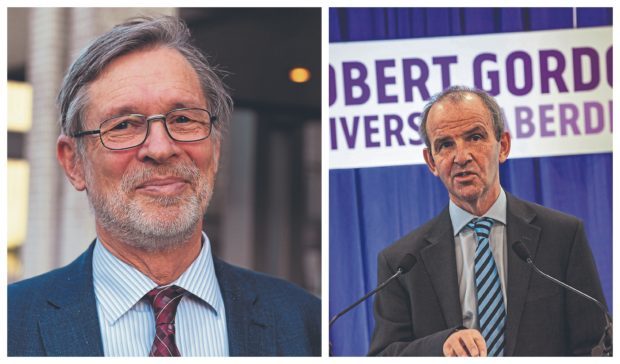 The boss of Robert Gordon University has quit after admitting a probe into his business links had damaged the institution's reputation.
Professor Ferdinand von Prondzynski said he "hugely regretted" the controversy and that he would step down from his role as principal at the end of this month to enable the Aberdeen-based university to "recover".
The shock resignation follows an internal investigation which found that Prof von Prondzynski had breached RGU's conflict of interest policy during the recent appointment of vice-principal Gordon McConnell.
RGU principal and vice-principal breached university's conflict of interest policy
An inquiry found that that the two former Dublin City University (DCU) colleagues had failed to declare during Professor McConnell's recruitment at the end of last year that they were co-directors of a firm which owned a £12million castle in Ireland.
The board ruled last month that it was a "genuine omission or oversight", but the P&J later revealed the decision not to sanction the pair had plunged the university into turmoil, and prompted fellow vice-principal Paul Hagan to quit in protest.
Prof Hagan has now withdrawn his resignation in the wake of Prof von Prondzynski's decision to leave after seven years in charge.
But the university was at the centre of a fresh row last night after a leading trade union criticised the decision to appoint deputy principal John Harper to the top job "without any recruitment process", branding it an example of "jobs for the boys".
Prof von Prondzynski, was praised last night for his "tremendous" efforts to boost the profile of RGU, but the circumstances surrounding his departure was described as a "sorry saga" that had "caused substantial public concern".
Announcing his decision to resign, he said: "I have enjoyed steering RGU through some exciting and challenging times over more than seven years and I take considerable satisfaction from the continued growth and standing achieved both nationally and internationally during this time.
"The investigation into the alleged conflict of interest regarding the appointment of Gordon McConnell found that the appointment was properly made and that neither Gordon nor I intentionally sought to mislead.
"There was an oversight on my part, for which I have already taken full responsibility.
"I recognise that the outcome of the investigation has caused division and therefore had a damaging impact on the university's reputation, which I personally hugely regret.
"Therefore my main reason for deciding to step down is to allow RGU to recover from these events."
Mike Fleming, chairman of RGU's board of governors, said it had been a "testing time" for all those involved.
He added: "We respect Ferdinand's decision, which we know he has taken in the best interests of protecting the university's well-deserved and hard-won reputation."
The P&J revealed in May that RGU had launched an investigation into concerns about the failure to declare their business relationship when Prof McConnell was recruited to the post of vice-principal for commercial and regional innovation at the end of last year.
We reported that in 2006 – when Prof von Prondzynski was DCU president and Prof McConnell was the head of the president's office – Prof McConnell had become a director of Knockdrin Estates Ltd in 2006, a firm which owned Knockdrin Castle, in County Westmeath, Ireland – the family home of Prof von Prondzynski.
Last night, north-east Liberal Democrat MSP Mike Rumbles said: "This sorry saga has done the university's reputation no good at all.
"The north-east needs world class institutions to ensure all of our students make the most of their talents and to boost the local economy. This cannot happen when those in charge are spending their time resolving internal disputes."
A Scottish Government spokesman said: "The events leading up to Prof von Prondzynski's decision caused substantial public concern. Ministers therefore understand and respect this decision."
Ferdinand von Prondzynski 
Ferdinand von Prondzynski has been no stranger to controversy during his seven years as principal and vice chancellor of Robert Gordon University.
In his time at the helm, the university has regularly topped the UK rankings for helping graduates move quickly into jobs, he has overseen the completion of its £120million Garthdee campus development, and RGU has forged new links across the globe.
But Prof von Prondzynski has also caused a stir by making his views known on a host contentious local, national and international issues as well.
He spoke out in the run-up to the 2014 Scottish independence referendum, insisting that some of the No campaign's arguments on the impact of a Yes vote on research sector did not "stand up to scrutiny", and he has also warned recently of the "damaging" consequences of Brexit.
Earlier in his tenure, the departing principal hit the headlines in 2013 when the university chose to award an honorary degree to former BP chief executive Tony Hayward, despite his controversial role at the firm during the Deepwater Horizon rig explosion and oil spill.
And the university found itself at the centre of a fresh row during the US presidential campaign in 2015, when it revoked Donald Trump's honorary degree.
Locally, Prof von Prondzynski has taken stances on contentious development proposals in Aberdeen, including the City Garden Project and Aberdeen FC's Kingsford stadium plans, and he served as a board member of Aberdeen City and Shire Economic Future, Aberdeen City Council's city centre regeneration board and on the economic leadership board of Opportunity North East (One).
A direct descendant of a 19th century Prussian general by the same name, Prof von Prondzynski was born in Germany in 1954 and his family moved to Ireland in the early 1960s.
Educated in Ireland and Germany, he worked for two years at Dresdner Bank AG before returning to Ireland and becoming an Irish citizen in 1976.
Prof von Prondzynski graduated from Trinity College, Dublin, with a BA and an LLB in 1978, and attained a PhD in law from Cambridge University in 1983.
An expert on industrial relations, employment law, discrimination law and competition law, he was a lecturer at Trinity College, Dublin, and became a fellow there in 1987.
From 1991, he held a series of senior positions at Hull University, before leaving in 2000 to take up the post of president of Dublin City University – where he remained until joining RGU.
Shortly after taking charge at RGU in 2011, Prof von Prondzynski was asked by the Scottish Government to chair a review of governance in Scottish higher education, and in the same year he was appointed by the government to the University Sector Advisory Forum, and the Innovation Scotland Forum in 2013.
His review findings have been credited with paving the way for new legislation to improve transparency in universities, but ironically it was a lack of transparency in his own business dealings that has now led to his departure at RGU after seven years in charge.
John Harper 
The new principal of Robert Gordon University was previously in charge of the institution when it controversially awarded Donald Trump an honorary degree.
Professor John Harper, who was announced yesterday as the successor to Ferdinand von Prondzynski, served as acting principal and vice-chancellor at RGU in 2010 following the death of previous boss Mike Pittilo.
At the time, he announced the decision to hand Mr Trump a doctorate in business administration (Hon DBA), saying: "Given that business and entrepreneurship lie at the heart of much of the university's academic offering, it is only fitting to award Mr Trump with an honorary degree.
"He is recognised as one of the world's top businessmen, and our students – the entrepreneurs of tomorrow – can learn much from his business acumen, drive and focus."
But the decision immediately met with a backlash, with former principal David Kennedy, who oversaw RGU's elevation to university status between 1987 to 1997, returning his own honorary degree in protest.
And five years later the university rescinded Mr Trump's honorary degree after it decided that the Republican's statements during the US presidential campaign were "incompatible" with its ethos and values.
Prof Harper was born and brought up in Wick, Caithness.
He moved to the north-east to study for both an honours degree and a PhD in chemistry at Aberdeen University, before entering higher education as a lecturer in chemistry at the former Robert Gordon Institute of Technology, where he subsequently became a senior lecturer and then head of School of Applied Sciences.
Prof Harper secured the award of Fellowship of the Royal Society of Chemistry, before being promoted to the role of assistant principal and dean of the Faculty of Health and Social Care.
In 2006, he became vice-principal and deputy vice-chancellor with responsibility for academic development and quality.