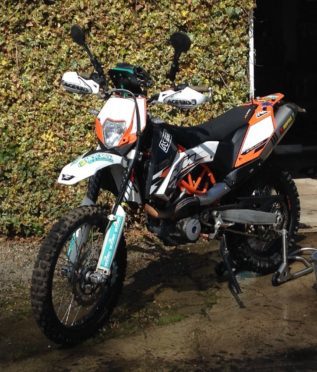 A biker's "priceless" pride and joy has been stolen in broad daylight from a busy Aberdeen industrial estate.
Alan Johnston, 43, said he was heartbroken when he discovered his orange and white KTM Enduro had "vanished" from outside his work at Hilton Instruments, in Howe Moss Avenue, Dyce.
Mr Johnston, from Crimond, first bought the off-road motorbike in 2010, and over the years has revved up more than 20,000 miles with it across the UK, including the Isle of Man TT twice.
Police are now investigating the theft, which took place on Thursday afternoon.
And Mr Johnston is also offering a reward for information that leads to the bike's return.
He said: "Our offices have floor to ceiling windows, which makes it all the more incredible that nobody saw my bike being stolen.
"I parked it in the office's car park at around 12.45pm, and by the time I left at 4pm it had vanished.
"I've just got no idea who stole it or how. The police have told me they're really surprised this has happened in this area.
"It could very well be that this was a targeted crime, maybe I was followed back from the garage.
"It certainly doesn't seem like an opportunistic theft. They probably knew exactly what they were doing, chucked it in a van and sped off."
A police spokeswoman confirmed they were investigating, and urged anyone with information to come forward.
Mr Johnston added: "With the GP and sat nav and all the other things I've added to it over the years, it's probably worth between £4,500 and £5,000 – but to me it's priceless, it was a real keeper.
"It's not just the adventures I've had on it, it's the future, potential adventures I'm yet to have on it that have now been taken away from me.
"I've been dreaming for a while now to take it on the Trans Euro Trail, which starts in Yorkshire and goes all the way round through France, Spain Portugal and then north through Germany and Poland, but it looks like that won't be happening now.
"I really hope if anyone has seen it or maybe has it offered to them, to phone the police."
Anyone with information is urged to phone the police on 101, or Crimestoppers on 0800 555 111 if you wish to remain anonymous.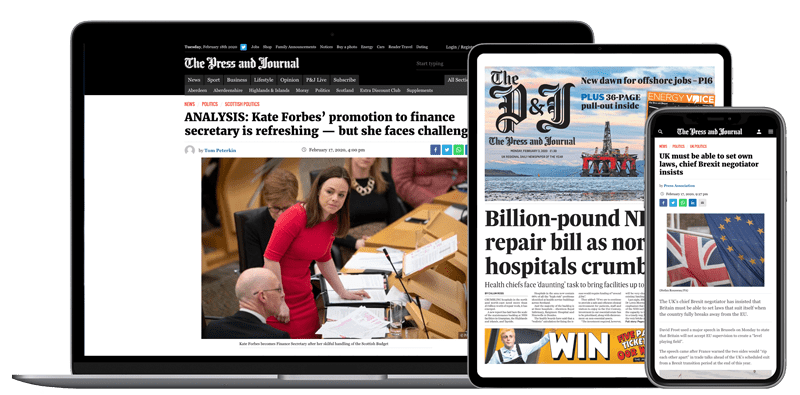 Help support quality local journalism … become a digital subscriber to The Press and Journal
For as little as £5.99 a month you can access all of our content, including Premium articles.
Subscribe