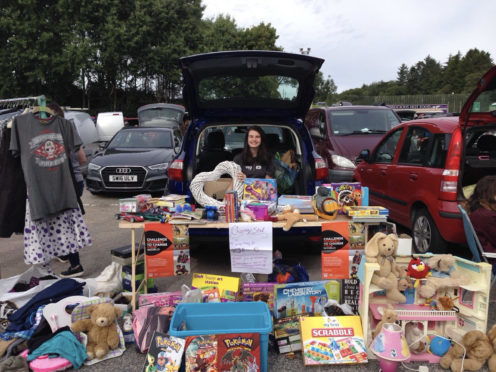 While most school leavers have been pondering what to do with their future, Megan Kemp already has her mind made up – even before her exam results dropped through the letterbox earlier this month.
In October, the former Oldmachar Academy pupil will jet off to Kenya to help impoverished communities through a UK government scheme.
As part of the International Citizen Service (ICS) programme, 18-year-old Miss Kemp will work with other young volunteers from across the country over a 10 week excursion.
During this time she will stay with a host family and immerse herself in the culture by working on a programme to promote inclusion for and combat discrimination against people with hearing disabilities.
She said: "I have wanted to volunteer overseas and have been interested in travel since I was about 15.
"Taking a gap year between school and university feels like the perfect time for me to go for it.
"I really want to use my time to help people and make someone's life a little bit better.
"I also think this is a great chance for me to develop new skills and experience a different way of life."
While Miss Kemp's trip was paid for by the UK Government through its foreign aid programme, she was able to raise hundreds of pounds for the projects she will be working on when she arrives in Kenya.
This included holding a mammoth car boot sale and taking the initiative to sell homemade cakes and cookies to other stallholders.
She said: "I chose ICS because it seemed like a programme that genuinely helps people and where all the people involved really care about what they are doing.
"It came across as a more genuine programme as volunteers are not required to pay huge amounts of money in order to participate.
"All that is asked is that you fundraise a certain amount of money to go towards the ICS programme and their partners, not to pay for your placement.
She added: "I'm looking forward to so many things.
"I'm so excited to be working with lots of like-minded people on a livelihoods project that aims to promote inclusion for people with hearing disabilities, something that I think is really important.
"I'm also really looking forward to getting to see Kenya and immerse myself in the culture, meeting the local people, trying new food, learning Kenyan sign language and some Swahili – basically everything."
ICS director Felicity Morgan said: "Leaving school or college is a big milestone and young people are often under a lot of pressure to decide what to do next.
"Volunteering overseas provides them with a unique opportunity to experience another culture and develop new skills.
"All ICS projects are part of properly planned, long-term development programmes, with volunteer safety a priority.
"Our volunteers can be sure that they're contributing towards tackling global poverty and supporting people living on the margins of society.
"We're incredibly proud that UK aid is supporting young Brits to bring about positive change in some of the world's poorest communities.
"Together we are all making the world a fairer, safer place."