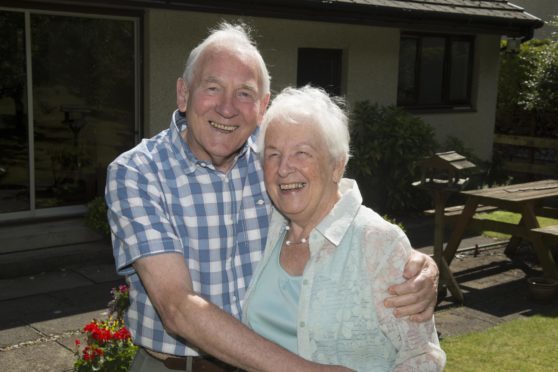 A north-east couple say that regularly attending the same church they were married in 60 years ago has helped keep their marriage a happy one.
George Bruce met Evelyn McPherson at a dance in Aberdeen's Beach Ballroom and the couple tied the knot at the city's Northfield United Free Church of Scotland on a warm day in August 1958.
Having now celebrated their diamond wedding anniversary surrounded by loved ones, the couple have reflected on their six decades of wedded bliss.
Mr Bruce, 81, said the secret to their long marriage was maintaining plenty of shared interests with his 80-year-old wife and being willing to work through any problems.
He said: "We keep active and do things together, like going for nice walks along Beach Boulevard and visiting different places around Aberdeenshire and Moray.
"Every Sunday, we still go to the church where we were married.
"We have some great friendships there which have lasted as long as our marriage, and we like mixing with the young folk there as that is what keeps us feeling young.
"Marriage is like anything else, you have to work at it, I always think it is a shame when I see young couples getting divorced over something that could possibly be discussed and sorted out."
Mr and Mrs Bruce, who worked as a hairdresser in Bucksburn at the time, were one of many couples who caught each other's eye at the Beach Ballroom during the 1950s.
They were among the first to be married at the United Free Church of Scotland in Northfield after it opened in 1958, following the bombing of its predecessor during World War II.
Their wedding dance took place at the city's old Trinity Hall on Union Street, which now forms the entrance to the Trinity Shopping Centre.
Mr Bruce, a civil engineer who graduated from the Robert Gordon Institute of Technology, enjoyed a long career which included a five-year stint working in Kenya.
The couple's daughter, Shona, was born in the African nation in 1960 and son, John, followed in 1965 after they returned to Scotland.
Mr Bruce moved to the country towards the end of the Mau Mau Rebellion – an uprising against colonial rule which helped secure the country its independence.
His work mainly involved constructing the country's first roads and bridges, as the nation had an almost complete lack of infrastructure.
Mr Bruce said: "We built 460 miles of road in four years, working flat out.
"It was certainly interesting, especially when you compare it to how long it would take for something like that these days."
After coming back home, the engineer played his part in helping Aberdeen to expand as the oil boom boosted the city's economy and population.
The respected engineer followed in his father and brother's footsteps as the Deacon Convenor of the Seven Incorporated Trades of Aberdeen, and remains involved with the group today.
The couple, who are both from Aberdeen, now live in Bridge of Don and were visited by the city's Lord Provost Barney Crockett to mark their special day.
They also received a letter from the Queen wishing them the best.
Mr and Mrs Bruce then travelled to Moray to spend time with family at Findhorn and Roseisle, and enjoyed a celebratory lunch at Archiestown Hotel near Aberlour.
They have three grandchildren, Paul, Jenna and Euan, and a two-year-old great granddaughter named Morgan – who flew in from America for the occasion with mum Jenna and her husband Justin.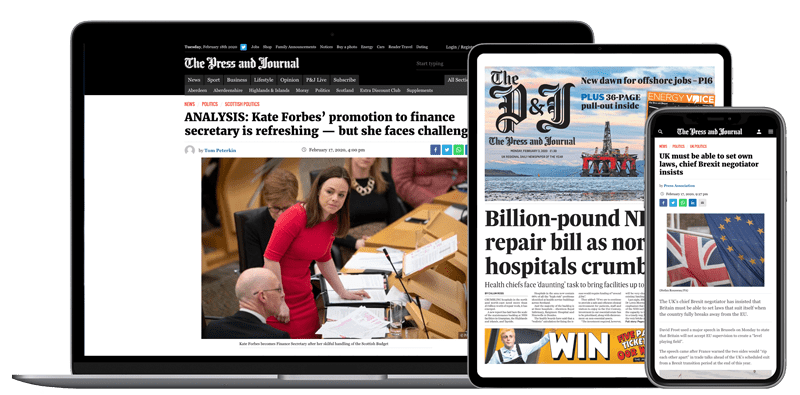 Help support quality local journalism … become a digital subscriber to The Press and Journal
For as little as £5.99 a month you can access all of our content, including Premium articles.
Subscribe