A gang of "travelling criminals" is targeting Chinese and Asian families living in the north-east – with more than £70,000 of currency and jewellery stolen in just six months.
Police yesterday revealed that 14 homes have been broken into across Aberdeen, Peterhead and Fraserburgh, with the majority of incidents happening since the start of July.
In each case, cash and valuable jewellery was taken on weekdays, between the late afternoon and the early evening.
The most recent incident took place in Aberdeen on Monday, where around £2,000 in cash was stolen.
Detective Inspector Fionnuala McPhail said officers at first did not believe the crimes were connected, but the link between all the incidents has now been established as the ethnicity of the victims.
Families of Bangladeshi, Sri Lankan and Vietnamese backgrounds are some of those who have been targeted by the criminals – who officers believe have been travelling around the north-east and are not local – but the majority of the thefts took place at Chinese homes.
DI McPhail said: "The reports have been coming in for the past six months now, but there's been a recent escalation in the number of incidents that has made it clear that specific communities are being targeted.
"We've linked our crime reduction officers with local Chinese and other Asian communities to give them advice on protecting their property and preventing crime.
"It is really difficult to speculate exactly why these communities are being targeted, however it is important to note that there are other areas of Scotland that have experienced a similar pattern, and in England and Wales also.
"So my feeling is there is an understanding that perhaps these communities are targeted for a reason, and this is shared between the travelling criminals, as we believe them to be."
DI McPhail said the thieves are understood to have been using a black Audi A3.
She added: "I'd like to take the opportunity to appeal to those who own guest houses, bed and breakfasts, hotels and Airbnbs – where we have centred some of our inquiries already – to be aware of individuals they may be suspicious of."
Anyone with information is urged to phone the police on 101, or Crimestoppers on 0800 555 111.
---
In July, the north-east's top police officer revealed that gangsters hailing from the Liverpool area are behind most of the north-east's organised crime.
Chief Superintendent Campbell Thomson said that over the past 20 years, crime groups operating in Aberdeen and the rest of the north-east have been "predominantly" from the north-west of England.
While he presented Police Scotland's annual report for Aberdeen to councillors, he added that – unlike other areas of Scotland – the north-east does not suffer the same problem of native "crime families" that are present in other areas of Scotland.
Ch Supt Thomson said they had been forced out by aggressive crimelords from south of the border.
He explained that criminals from the Liverpool area take advantage of Aberdeen's excellent transport links to bring in illegal material by road, rail, sea and plane.
Thieves and other criminals from the Liverpool area have been linked to a spate of incidents in the region in recent months, including attacks on ATM machines.
A police report presented to the city council said: "The influence of organised crime groups are reflected not simply through the supply of drugs within the communities, but through linked criminality.
"One such example relates to the attempted theft of an ATM from within the city and the theft of a vehicle by criminals from an English based organised crime group."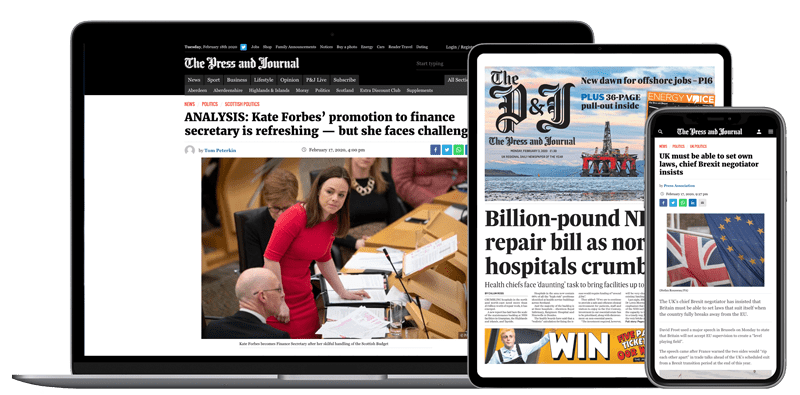 Help support quality local journalism … become a digital subscriber to The Press and Journal
For as little as £5.99 a month you can access all of our content, including Premium articles.
Subscribe