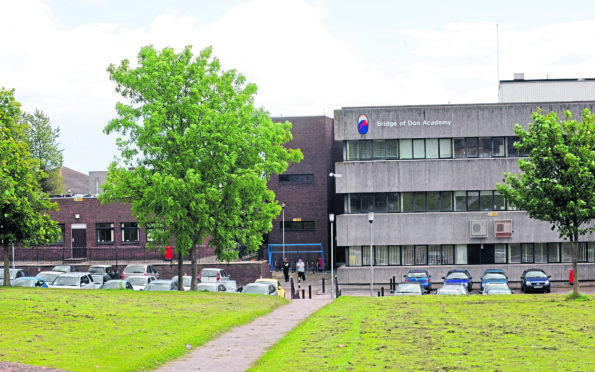 A leaked Aberdeen City Council report reveals workers were placed at risk of exposure to asbestos following a series of safety breaches.
It has emerged that 25 members of staff accessed Bridge of Don Academy in the days following the discovery of the hazardous substance on July 12.
Teachers, janitors and cleaners are all said to have been among those placed at risk of exposure as proper safety procedures for removal were not followed.
Contractors are said to have been removing the asbestos panels discovered without breathing equipment.
The council document, seen by the Press and Journal, reveals such errors were possible as the incident had not been highlighted to bosses until days later because a line manager "forgot".
On Saturday, it emerged that asbestos has also been discovered at Hazlehead Academy by a worker replacing windows, which the council admitted was removed "without agreement on safe working practices".
The Health and Safety Executive (HSE) are reviewing both incidents.
The internal report reveals that work began on the school on July 9, in what was envisaged as a six-week project to install new security doors, and refresh carpeting, painting and plumbing.
But on July 12, while removing panelling from a door a worker using a hammer and chisel discovered asbestos.
He is said to have been told to remove it and "double bag" it before taking it to a skip – all accomplished without respiratory equipment.
On 17 July, emergency procedures were initiated – the first such response to the disturbed material.
Asbestos discovered in second Aberdeen school days before pupils return
The Unite union's Tommy Campbell, when told of the details in the report, said it was a "catastrophic failure".
Both academies are aging, with Hazlehead first opened in 1970 and Bridge of Don in 1979.
Asbestos was a common material until being banned in the UK for construction in 1999.
Inhalation of fibres can however cause serious and fatal illnesses, including lung cancer.
A spokesman for Aberdeen City Council said: "The health, safety and wellbeing of staff, pupils, contractors and all visitors to schools is a priority and Aberdeen City Council has robust policies, procedures and training in place in relation to asbestos.
"The incident at Bridge of Don Academy has been the subject of an internal investigation and the council is supporting the Health and Safety Executive as it conducts its independent investigation.
"The matter will be the subject of a report to the Audit, Risk and Scrutiny Committee in due course and it would not be appropriate to comment further at this stage."