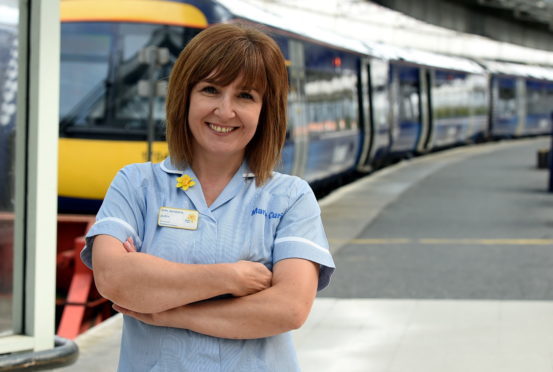 A Turiff woman has launched a campaign to share her experiences of working as a Marie Curie nurse in the hope that more people will fund other people to work in her role.
Jackie Smith, 48, signed up to work with the organisation, which provides care and support to people with terminal illnesses and their families, three years ago.
She decided to change careers after being inspired by the work of nurses visiting a care home where she worked.
Yesterday she spent time chatting to commuters at Aberdeen Railway Station yesterday encouraging them to pledge donations to the cause.
Marie Curie fundraisers will be in the station for the next seven weeks encouraging people to fund a Grampian nurse for the next two years.
Ms Smith said it was "an honour" to be nominated to lead the campaign.
She said: "I had no idea what I was getting into – but I'd do anything for Marie Curie and if it helps show people why we need their support then I'm all for it."
Ms Smith previously worked at Dawson Court Very Sheltered Housing in Turiff, which was where she first came into contact with Marie Curie staff.
She said: "I learned a lot more about what the Marie Curie nurses did.
"The nurses would come in at night to carry out various duties and I admired what they did. So I decided I would go for it and sign up to become a nurse.
"Since then it has been an amazing experience. It is family, and we all support each other.
"Working with Marie Curie is a really fulfilling job with everything you would hope for – I would encourage people to help support a nurse if they can.
"My work sees me caring for people near the end of their lives and I feel honoured that families welcome me into their homes at such a vulnerable time for them.
"Of course there are very sad moments we go through together, but I still really appreciate the bond I get to have with them."
Volunteer Roderick Lachlan will be at Aberdeen Railway Station as part of the campaign for the next two weeks.
Mr Lachlan said: "Nurse Jackie is amazing and this campaign will hopefully encourage people to do what they can to support nurses."
To find out more about Team Jackie go to www.mariecurie.org.uk