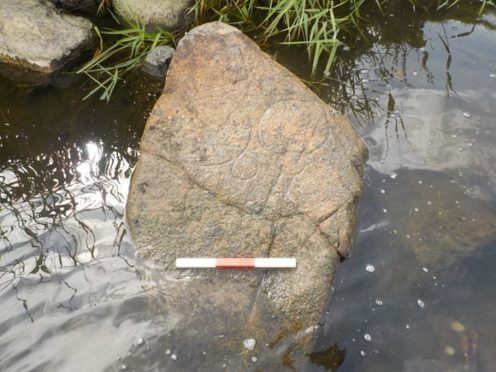 A fisherman found an "incredibly rare" Pictish stone after a long spell of warm weather lowered water levels in the River Don.
Teams from Historic Environment Scotland (HES), the council and Aberdeen University visited the site to remove the relic after the angler spotted it partially uncovered in the river.
The stone, which is believed to date from around 600AD, was removed and taken to the Crown Office's Treasure Trove in Edinburgh to be examined.
It is described as being a class 1 unworked stone with carvings of symbols including a triple disc with cross bar, a mirror and a notched rectangle with two internal spirals.
The new discovery is one of several impressive finds in the region. Another early Pictish stone uncovered nearby is now on display at the Church of St. Fergus in Dyce.
Local authority archaeologist for Aberdeen and Aberdeenshire, Bruce Mann, said: "The exceptional summer has led to river levels being at their lowest for decades, so there was always a chance that something new would be found.
"However, I certainly didn't expect a find as stunning as this.
"Pictish symbol-stones are incredibly rare, and this one, with its apparent connection to the river, adds further to the discussions around their meaning and what they were used for."
Pictish symbol stones are among Scotland's most distinctive monuments. Their elegant and vivid symbols and images can be found carved into boulders and slabs of rock, and on specially cut and shaped free-standing stones.
Class I Pictish stones date to between the 6th and 8th Centuries AD, and are typically unworked stones with carved symbols. The meaning of the symbols is not clear but could represent the names of people.
Gordon Noble, head of archaeology at Aberdeen University, who is currently leading a major research project into the early medieval Kingdoms of northern Scotland and Ireland, said: "The distinctive set of symbols carved into the stone meant we were quickly able to identify it as belonging to the Pictish tradition.
"Although there is a corpus of more than 200 of these stones across Scotland, each one is unique and this is a fantastic example which enables us to fill some of the gaps in the record and helps us to trace the development of literacy in north-east Scotland. As such, it is a very significant find."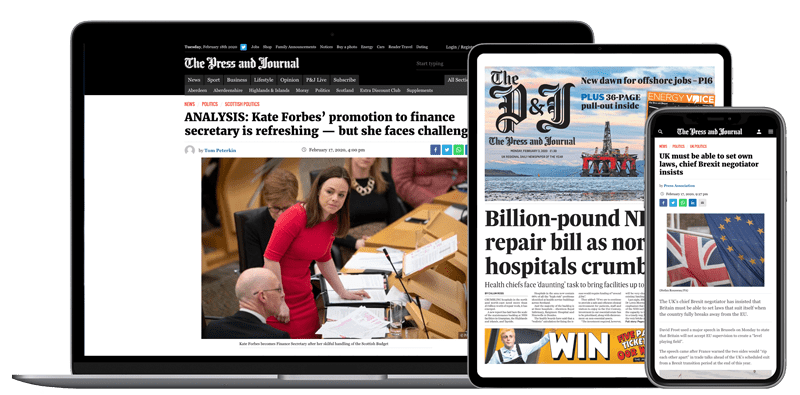 Help support quality local journalism … become a digital subscriber to The Press and Journal
For as little as £5.99 a month you can access all of our content, including Premium articles.
Subscribe