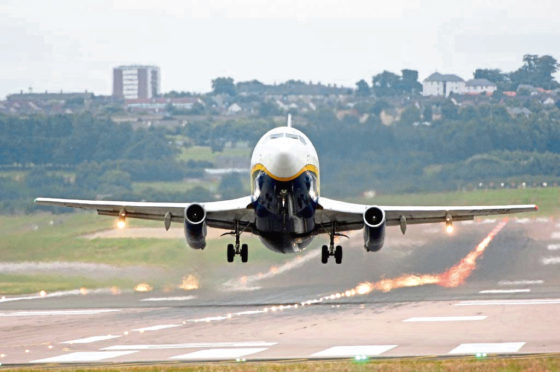 Tourism bosses have insisted Aberdeen International Airport is ready for take-off despite being voted the worst in the UK.
The facility finished bottom in a table of the UK's 18 smaller airports – those with fewer than 10million passengers each year – following a survey by consumer charity Which?
It was also last out of all four Scottish international airports in the survey, which Inverness topped, with an overall score of just 49% and the lowest possible rating of one star.
But airport bosses last night stressed the research was carried out during its ongoing £20 million expansion.
Which? carried out a survey of almost 11,265 passengers in UK between April and May and asked them their experiences of airports they have used in the past year.
Among the main criticisms levelled at the airport were the long waits at baggage reclaim, a lack of seating and a limited range of shops.
According to the researchers, one passenger went as far as to say they thought its "international title is a joke" and that the airport has "never kept up with expansion".
Pick-up and drop-off charges were among the major complaints at every airport, with some branding it as "racketeering".
It comes just a week after Aberdeen came under fire for reducing its £2 drop-off period to 10 minutes.
A spokeswoman for the airport said: "The airport was in the midst of the £20million terminal transformation project when the survey was undertaken, where we have since opened new retail facilities and a vastly improved security search area.
"We have invested heavily in airport improvements since we launched the project back in 2016. We're dedicated to improving the airport experience for our passengers, and with this in mind, we have upgraded our international and domestic baggage reclaim facilities, as well as new immigration and arrivals areas.
"The feedback we've received from passengers has been overwhelmingly positive, and are looking forward to opening some of the elements of the next phase of our terminal project in September."
The facility said by the end of the project in autumn next year the terminal will have increased in size by 50%, with 90% of the site upgraded.
VisitAberdeenshire also defended the airport and said it provided "excellent connectivity" to the Europe and the rest of the UK.
Chris Foy, chief executive, said: "Aberdeen International Airport is undergoing a significant £20million investment and this survey does not consider those new improvements which included a new departures experience which opened in June.
"VisitAberdeenshire believes Aberdeen International Airport serves the north-east well and provides excellent connectivity from throughout the UK and Europe."
Russell Borthwick, chief executive, echoed Mr Foy's comments, adding: "The new facilities which Aberdeen International Airport have invested in as part of a £20million transformation project were under construction when this survey was carried out so it simply does not reflect the existing passenger experience.
"Significant changes to the retail and security areas have already been completed and further work is still ongoing, fundamentally changing how the airport looks, feels and operates."
Inverness, which was ninth in the smaller airports UK table and top in Scotland, was given high scores for customer service, queues and toilets.
Those surveyed said it "operated well" and was "pleasant" and "friendly".