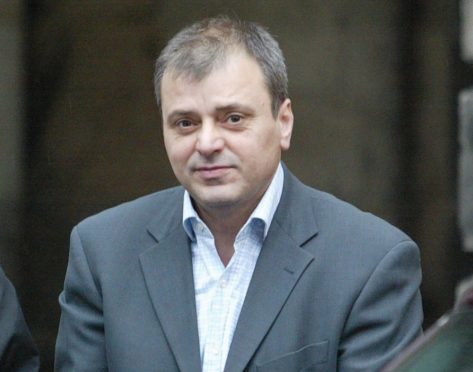 A former Aberdeen restaurateur linked to a Mafia group is back behind bars in his native Italy facing new allegations.
Antonio La Torre is being held on remand following a series of police raids, according to the Sunday Post.
The 62-year-old former city restaurateur, who moved to the Granite City in 1984, was named by Italian prosecutors as a Camorra mafia crime lord and arrested in 2005 and later jailed in Italy for extortion and racketeering.
Now Italian Police say they have uncovered evidence that the father-of-three and his brother Augusto, who is linked to 40 deaths, had been threatening to kill two public prosecutors.
The plan was allegedly hatched from behind bars where Augusto is serving 22 years for murder and extortion after being jailed in 2003.
Their alleged targets – revealed in intercepted phone calls – were two anti-Mafia prosecutors Alessandro D'Alessio and his deputy, Maria Laura Lalia Morra.
Augusto La Torre, 55, is believed to be one of the major kingpins of the feared Naples Mafia, known as the Camorra.
After 20 years in Aberdeen it emerged that older brother Antonio had been using his businesses as a front for laundering money and was extradited to Italy where he was sentenced to 13 years' imprisonment in 2006.
The older La Torre was released in 2014 but prosecutors claim he has returned to a life of crime.
Anti-Mafia police say the former restaurateur – who divorced Scottish wife Gillian Fraser in 2008 – is currently in jail in Parma and will face a court date soon to answer to the new charges.
Chief commissioner Marta Sabino, of Campania's police force, said: "Antonio La Torre was arrested by anti-Mafia police.
"He is on remand and will be processed in the next months."
La Torre and three other men were arrested in a series of raids investigating the illegal possession of firearms, attempted extortion, attempted robbery and being involved in the Mafia.
La Torre has denied any involvement.
Antonio and Augusto's father was feared Mafia boss Tiberio La Torre, who died at the age of 55.
The first police probe into La Torre began in 1992 when he was a partner in the Sorrento restaurant in Bridge Street.
He opened two Italian restaurants – Pavarotti's and Sorrento – after moving to Scotland in 1986 to be with his then-wife Gillian, who was born in Aberdeen.