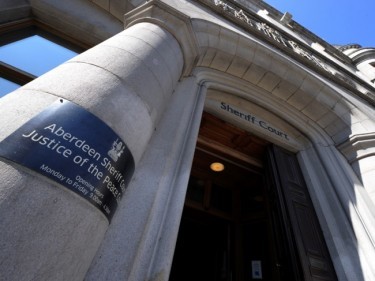 Cyber crime officers found images of children as young as eight involved in "sadistic sexual activity" on a cadet officer's phone, a court has heard.
Rikki Henderson is on trial at Aberdeen Sheriff Court, accused of sexually assaulting two women at a cadet training camp.
The 25-year-old also faces three charges of possessing, distributing and making indecent images of children.
Yesterday Neil Adam, a mobile telephone examiner for the police's cyber crime hub in Aberdeen, told the court he had been tasked with searching Henderson's Samsung smartphone in June last year.
He said that using special forensic software, he found nine indecent images in a sent folder of the messaging service Whatsapp. He said they could not be viewed by using the phone through normal means.
Seven of the images were category C, the lowest in severity, however one was category B, and one was deemed as category A –  and described by Mr Adam as "sadistic".
However, when questioned by defence solicitor John McLeod, Mr Adam told the court he could not say "with 100% accuracy" the images had been sent by Henderson, or exactly when they were sent.
Henderson is also facing two other unrelated challenges relating to two sexual assaults at a cadets training camp in Boddam, near Peterhead.
It is alleged that during a boozy Saturday evening in late 2016, Henderson, who held the rank of officer at the time, grabbed one woman's head and pulled it towards his crotch, and later that evening put his head between another woman's legs while making the sound of a "wagging tongue" action.
Henderson, of Bridge Street, Strichen, is also accused of taking a photograph of the private parts of a woman last March without her consent.
An additional charge that Henderson had caused distress to his police officer friend Jack McGregor, 20, by sending him the photograph was dropped by the Crown yesterday. He denies the outstanding charges.
In his closing speech yesterday, fiscal depute Colin Neilson urged the jury to convict him and said: "The evidence is compelling enough to say that he did send the images from his phone".
However, Mr McLeod told the jury the allegations had not been proven beyond reasonable doubt and urged them to acquit his client. Sheriff William Summers will charge the jury tomorrow before they begin their deliberations.
The trial, before Sheriff Summers, continues.