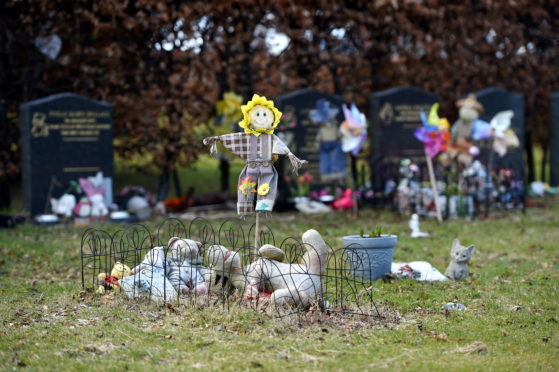 Grieving city residents could have ornaments "removed immediately and without notice" from around the graves of their families and friends under new plans being considered by the council.
Under a new 10-year plan being drawn up for the city's cemeteries, any memento that "emits noise" would also be banned from the sites and any ornament that sits off the main gravestone area would be removed.
The plan, to be put before next week's operations committee, would also mean that controversial grass cutting around gravesides would continue.
However, the current dog ban would be reversed – as long as the animals are kept on a lead.
The council said a widespread consultation would be carried out before the changes came into place and if there were "widespread complaints" the issue would be reviewed.
In March, a major row broke out after council chiefs wrote to families with children buried in the city's Hazlehead graveyard telling them to remove their items from grass around graves.
The local authority said at the time that leaving the likes of cuddly toys around the graves could result in their mowers being damaged and were against health and safety rules.
A petition eventually gained 1,00 signatures before council chiefs said they would consult with those affected on the rules.
Earlier this month, the father of seven-year-old Preston Flores – who died in a tragic blaze after splashing petrol on his clothes in 2014 – vowed he would sleep on his son's grave to prevent any items being removed.
Kirsty Cox's son Aidan is also buried in Aberdeen, and the Ellon mum said she felt the move sounded too "harsh" and that Aidan's surviving twin Kai "loves" visiting him.
She said: "All we have wanted from the council is a bit of compromise and I hope that in their consultation they listen to us.
"My son loves going to see his brother and seeing the ornaments including the windchimes.
"The council should never have gone about this the way they did. We met them again about a month ago.
"It seems they have made up their mind and are going ahead anyway."
Hazlehead councillor Martin Greig said: "The council needs to cooperate with the wishes of families who have particular views about cemeteries and memorial places.
"These are environments which demand to be treated with respect. It is important to be flexible and understanding.
"Allowing dogs into these locations is likely to be controversial. It is unpleasant to think that this will lead to complaints of dog fouling."
The council report reads: "No glass, mesh/netting, food, drink or any noise emitting items (e.g. windchimes) will be allowed. Unauthorised items or items placed outwith the memorial border will be removed immediately and without prior notice by the cemetery staff."
Further measures
Council chiefs are also going to be strict on the use of ornaments around graves.
Any memento that "emits noise", such as windchimes, will be banned under the plans.
Any item that is left outside the area of the headstone will be removed without warning by council staff.
A report reads: "Memorabilia, mementoes and ornamentation of the lair must be kept within the memorial border.
"The memorial border is the area of ground at the head of the lair adjacent to the headstone and three inches from the designated grass edge.
"Kerbs, copes, corner stones, railings, pebbles/gravel etc are only permitted in the approved memorial border.
"The lairholder will be responsible for the maintenance of the area within a solid border or fenced off area.
"No glass, mesh/netting, food, drink or any noise emitting items (e.g. wind chimes) will be allowed.
"Unauthorised items or items placed out-with the memorial border will be removed immediately and without prior notice by the cemetery staff."
The rules
Nobody buried below seven feet or less than two feet, six inches
 Only three adult burials will be permitted in each lair
Memorial wreaths shall be removed at such time as the council in its discretion considers appropriate
No burials will be permitted where the body has not been placed in a coffin
Cremated remains may not be scattered in any part of a cemetery or burial ground
Nothing shall be planted on a lair without the consent of the bereavement services manager
No person within a cemetery or burial ground shall feed birds or animals by hand or any other means, or throw, place or otherwise deposit or leave any foodstuff or other edible matter
Children under 12 visiting a grave must be accompanied by their parents or guardians
The maximum dimensions of a memorial on a burial lair shall not exceed five feet high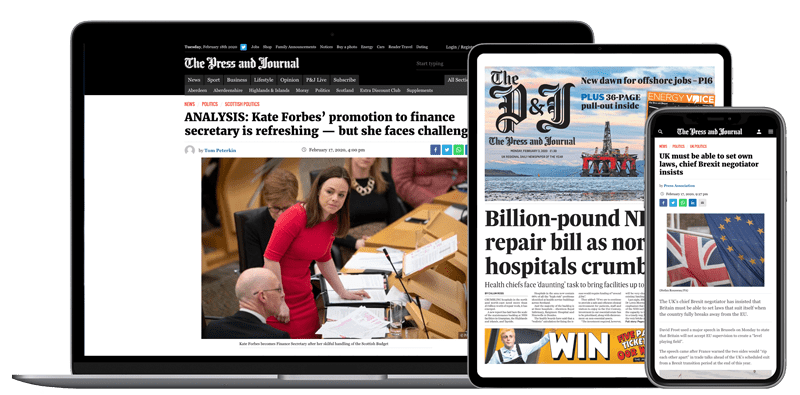 Help support quality local journalism … become a digital subscriber to The Press and Journal
For as little as £5.99 a month you can access all of our content, including Premium articles.
Subscribe