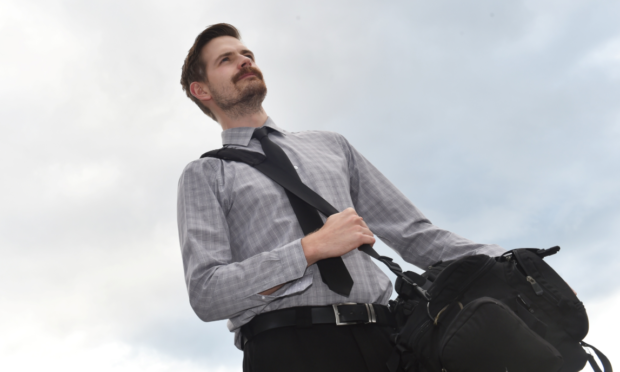 A husband-to-be's stag do plans were left up in the air after the airline he was due to fly with from Aberdeen Airport suddenly went bust.
Belgian flight operators VLM Airlines introduced direct flights from Aberdeen to Antwerp in June, but late on Friday evening the company told passengers it was now in liquidation and all bookings had been cancelled.
The announcement came just 88 days since its first flight on the new route took off.
The direct flights were aimed at oil workers travelling to and from Antwerp due to the city's importance to the petrochemical industry, but were also designed to lure holidaymakers hoping to visit the continent.
Among those affected by VLM going under was Press and Journal reporter Kieran Beattie, who had been due to fly to Antwerp on Friday for his stag do along with 11 friends.
The 26-year-old was able to organise alternative travel via Edinburgh and Amsterdam, with a train to their final destination of Brussels, however he and the rest of the stag party have been left about £100 out of pocket each.
Mr Beattie, said: "When the email came through on Friday night I felt absolutely horrible.
"My best man Jordan has been working so hard over the past few months to organise not only my stag do, but another one for our pal James, and suddenly we were faced with calling off the trip entirely because of this airline – we just felt completely mugged off.
"Thankfully, we are being given a refund for the tickets, and we managed to find relatively cheap Easy Jet flights from Edinburgh, so as long as they don't suddenly go bust as well, everything will go as planned.
"It's not the best to have less money for beer, but at least it's still going ahead."
Another affected passenger was Dave Short, who had flown out from Aberdeen on Friday and was "basically told to get my own way home".
He said: "It cost me almost £600 to get home, and I lost a day of my holiday."
A VLM spokesman said: "We only recently started the route and it was in the developmental stage.
"Unfortunately, we have taken the decision to end the route as of August 31 and we have contacted a small number of passengers who have booked flights to give them refunds."