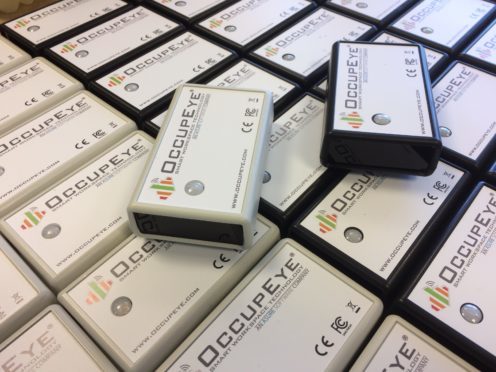 NHS Grampian has been accused of plotting to spy on staff over plans to install controversial sensor devices at desks in several north-east offices.
The health board last night faced calls to scrap the "Big Brother-style" scheme to install the equipment, which will be concealed on the underside of desks, for a four-week study beginning next week.
The OccupEye devices, which have been withdrawn from offices elsewhere after receiving criticism, will monitor the presence of a worker at their desk via a combination of motion and heat.
A spokeswoman for the NHS last night insisted the sensors would "absolutely not be used to spy on staff", while declining to reveal how much the programme would cost due to "commercial confidentiality".
But the Big Brother Watch campaign group accused health bosses of creating an "oppressive work environment" by rolling out the scheme.
A spokesman said the project would "erode workers' basic rights".
He said: "It is disturbing to see technological advances being used for workplace surveillance, especially in the public sector.
"This is likely to create an oppressive work environment where employees feel constantly and scrupulously monitored.
"Such intrusive surveillance has no place in the workplace and seriously risks eroding workers' basic rights and we urge the NHS to carefully reconsider the appropriateness of this monitoring."
The devices, which are the size of a deck of cards, will be installed at NHS Grampian's Summerfield House, Westholme, Ashgrove House, Foresterhill Lea and Foresterhill House offices.
The equipment is made by Blackburn-based firm Cad-Capture and is designed to help companies save money by reducing their number of desks and providing a dashboard which shows when each desk is occupied.
NHS Grampian's property and asset development manager, Gareth Evans, justified the move in an email sent to staff. It was later shared with the Press and Journal.
Mr Evans said the sensors were being installed as part of a "workplace utilisation study" and stressed the devices would not record pictures or sound but would be used to work out how space in the offices is being used.
He wrote: "These are not cameras, nor do they track or identify individuals".
The health board will hold discussion sessions about the study with staff next week and the sensors will be put in place on Monday as a four-week assessment begins.
An NHS Grampian spokeswoman said: "We are absolutely not spying on our staff and we are concerned that this exercise has been interpreted in this way.
"We have had full engagement, working through staff concerns which we have sought to address.
"We need to ensure we are using all our buildings as effectively as possible.
"These sensors will track how and when office space is used. They do this by measuring heat and motion.
"The property and asset development team is visiting all the buildings involved to meet staff and explain the purpose of the study. We would encourage anyone with any concerns to contact the team directly.
"We want our staff to be able to work safely and effectively and it may be our current ways of working do not support that as well as they might. We will only be able to understand this for sure by running this study and looking at the results."​
A spokesman for OccupEye stressed that the technology is intended to be used to help organisations work out the required space in offices.
He said: "Forward-thinking organisations with a commitment to creating effective and energy-efficient estates are harnessing the power of OccupEye to deliver significant cost reduction through better informed and more intelligent use of property assets."
North-east MSP Lewis Macdonald said: "I would hope that before NHS Grampian implements this technology, there would be extensive consultation with trade unions.
"It is essential that the workforce has a say in this, as if put in the wrong hands, it is very possible that staff could be made to feel like they are working in a very oppressive workplace.
"However, energy efficiency in the workplace is also very important, so a balance must be struck to ensure that this technology is used in the right way, and not in the wrong way."
OccupEye: Complaints of the past
The contentious "snooping" devices being used by NHS Grampian have sparked outrage in other parts of the country in recent years.
In 2016, The Daily Telegraph newspaper was forced to remove the OccupEye sensors from desks in its London office after a fierce backlash from staff.
The National Union of Journalists said the "surveillance" scheme infringed on workers' privacy rights.
Last August, bankers working for Lloyds voiced similar concerns when the equipment was installed at its London offices – though the organisation assured employees that the devices would be used only to assess how the office space was used.
In April, doctors lashed out after the sensors were placed in their offices at Hull Royal Infirmary.
The Hospital Consultants and Specialists Association said management had "taken a leaf straight from the pages of Orwell's 1984".
Hull and East Yorkshire Hospitals NHS Trust insisted the technology was only being used to determine how often workspaces were occupied.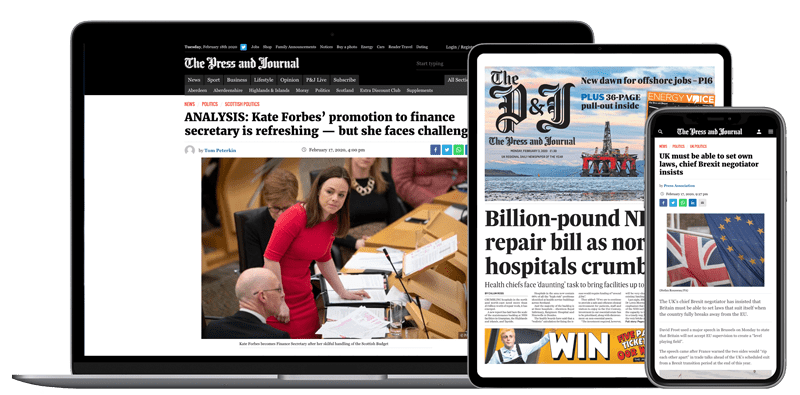 Help support quality local journalism … become a digital subscriber to The Press and Journal
For as little as £5.99 a month you can access all of our content, including Premium articles.
Subscribe