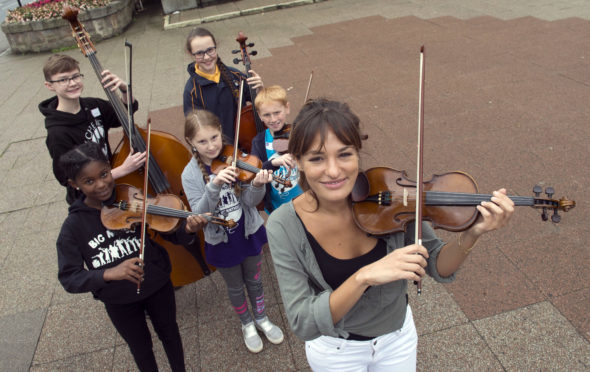 She's a world-class violinist who has performed on many of the world's biggest concert platforms.
But Nicola Benedetti has always been committed to spreading the musical gospel and encouraging other Scots to boldly follow her example.
To that end, the 31-year-old maestro was at Aberdeen Arts Centre yesterday to launch a series of free Super Strings Sessions for hundreds of young musicians across Scotland.
The project will involve around 350 youngsters, playing violin, viola, cello and double bass, and is supported by players of People's Postcode Lottery.
They will join Ms Benedetti, alongside children and teachers from the Big Noise centres at Raploch in Stirling, Govanhill in Glasgow, Torry in Aberdeen and Douglas in Dundee, to form one-off string ensembles.
Nicola Benedetti to join hundreds of budding musicians on stage
The programme follows the success of the transformational Sistema Big Noise venture, which has brought art and cultural inspiration to many deprived areas of Scotland since originally being unveiled in Stirling in 2008.
Ms Benedetti said yesterday: "I am delighted to be in Aberdeen and am extremely excited to be working with young people across the country, including children who already attend Big Noise.
"By attending the sessions, children and young people will not only have fun and make new friends, but they will also learn to collaborate.
"I will be working to help improve their playing technique, freedom of expression and command of their instrument, so that each element combines individually and within an ensemble to create the fullest sound possible.
The star added: "Being a 'Big Sister' to Big Noise is dear to my heart.
"I am fiercely proud of the work I have done with Sistema Scotland over the past ten years, including the many visits I have made to perform with the children and learn how they have progressed.
"What Big Noise has achieved in that time, in terms of both social transformation and musical excellence, their passion for teaching, commitment to the children and work on the musical curriculum, is phenomenal."
Councillor Douglas Lumsden, co-leader of Aberdeen City Council, said: "We are delighted to welcome Nicola Benedetti, Big Noise Torry, and the Super Strings Sessions to Aberdeen.
#SuperStringsSessions: with Big Noise and @NickyBenedetti have officially begun here in Aberdeen! With thanks to players of People's @PostcodeLottery for their support in helping make this possible! pic.twitter.com/oe2dQa01aW

— Sistema Scotland (@sistemascotland) September 3, 2018
"I am particularly pleased that we have Aberdeen Music Service as well as young people from all over Scotland taking part in such an exciting project.
"It will give hundreds of musicians a rich musical learning experience in a variety of different ways.
"Big Noise is transforming not only the lives of the children and young people taking part, but also the entire community."
The project will culminate in a Festival of Strings day at the Caird Hall in Dundee on Tuesday October 9.