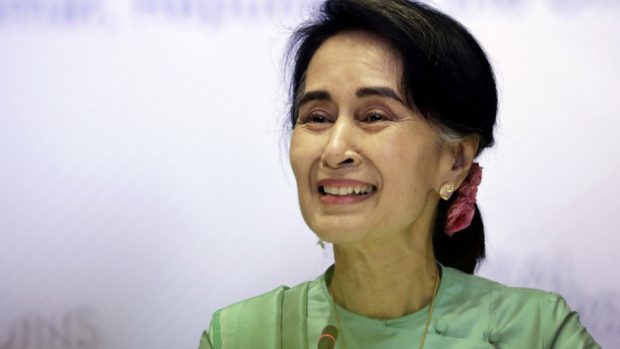 A plaque in an Aberdeen park honouring a controversial Asian leader could be removed by city council chiefs.
The decoration was installed on the wall of Hazlehead park cafe ten years ago to celebrate the Myanmar leader Aung Sung Suu Kyi.
It was erected at the request of the city's former Amnesty International club at a time when Ms Sung Suu Kyi was widely commended for her bravery in enduring years of house arrest by the military junta that ruled the south-east Asian country.
She was awarded the Nobel peace prize in 1991 and hailed internationally as a beacon of democracy.
But since taking power in 2015, she has been condemned for her handling of the problems in the country's Rakhine province in the wake of attacks by Rohingya militants on police posts.
Myanmar's army has now been accused of killing Rohingya civilians and burning their villages, forcing hundreds of thousands to flee to Bangladesh.
Now Lord Provost Barney Crockett has submitted a motion to next Monday's full council meeting requesting that the plaque should be removed following complaints from former members of the Amnesty club.
Mr Crockets plan was last night supported by north-east regional representative for the Unite union Tommy Campbell who said: "I think this is the right move, especially after the oppression the regime has shown in its arrest of journalists."
There is also likely to be opposition, however, with Hazlehead Liberal Democrat councillor Martin Greig saying: "It is a problem if we constantly want to rewrite history.
"There are few heroes from the past who have an entirely clear record.
"Potentially we could remove all manner of plaques and statues because of questionable or oppressive acts of the person commemorated.
"It was right for us to support the campaign of Aan San Suu Kyi. We have to keep campaigning for human rights in all places. The hope is that the Myanmar government will listen to our calls for justice."
Mr Crockett said: "I do think it is a good point to raise and as a historian myself I am wary of removing history.
"However, I do think there is a difference between questioning the legacy of someone who perhaps died hundreds of years ago and taking action on something that is happening now."