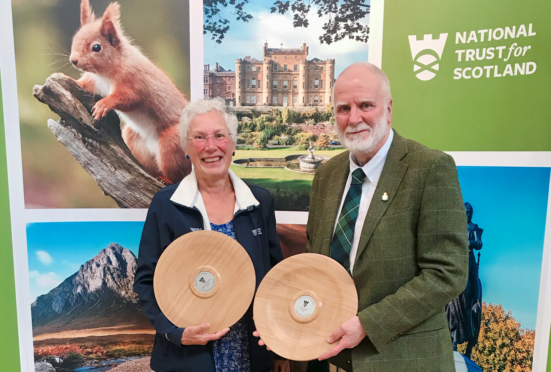 A dedicated employee who slept for three nights in a freezing cold castle after its security system failed has been recognised with a prestigious award.
John Lemon, a visitor services supervisor at Craigievar Castle near Alford in Aberdeenshire, was one of the recipients of the National Trust for Scotland's (NTS) George Waterston Award at a special ceremony this weekend.
Mr Lemon, who has volunteered for the conservation charity for the past 14 years and started working at Craigievar in 2016, was presented with the award for his commitment to going above and beyond to protect Scotland's heritage.
The 71-year-old Mr Lemon, who used to work in the IT department at Aberdeen University for 38 years before he retired, said he was "gobsmacked" when he found out he had been nominated.
The NTS decided to put Mr Lemon forward for the prize, which is given to volunteers and staff who put in extraordinary effort for the charity, after a bout of heavy snow in January caused severe electrical problems at the 17th century visitor attraction.
When the security and fire systems failed, Mr Lemon chose to wrap up warm and sleep in the chilly castle with no heating to make sure it was safe from any intruders or calamitous blazes.
Mr Lemon said: "We had a small electrical fire that took out all the electrics, so we had no security cover, no fire alarms, so the castle was left unsafe.
"So until we could organise external security cover, I stayed in the castle for three nights.
"There's no gas there either at all, so it was quite cold.
"It would be an understatement to say I was gobsmacked when I found out the news, It's really humbling to be given this award – but I feel that I've got it on behalf of my team of staff, because they're a fantastic group of people who really do their best to make Craigievar such a fantastic place to visit."
The George Waterston Award is presented at the NTS' annual general meeting in memory of celebrated Scottish ornithologist George Waterston, who bought and subsequently donated Fair Isle, located between Shetland and Orkney, along with its bird observatory to the NTS in 1954.
Elizabeth Brancher, a volunteer at Kellie Castle in Fife, was also granted the award at the ceremony in Stirling on Saturday.