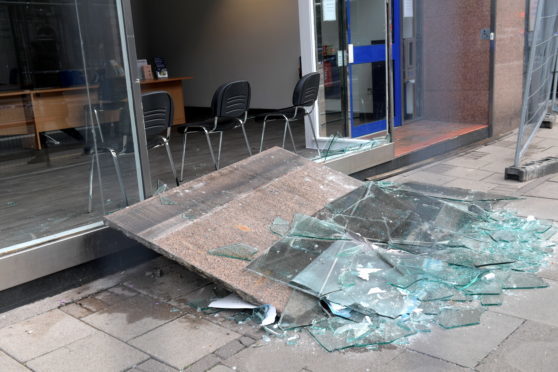 Urgent repairs are under way after a heavy slab of stone became dislodged from above a shopfront and crashed onto Aberdeen's main thoroughfare.
The stone fell about 10ft from 250 Union Street, causing a large window to smash as it landed and sending thick shards of glass scattering onto the pavement.
Grampian Credit Union moved into the premises on Monday. But just hours after the organisation shut up shop following its first day in the new office, the massive lump of stone became loose and toppled onto the street.
One employee yesterday said that staff had been left "shaken up" by the incident, but added that they had no idea what had caused the structural issue.
Property firm Ryden, which manages the building and leases it to Grampian Credit Union, refused repeated requests for comment yesterday although staff were at the scene helping with remedial work.
The window pane, which was about 10ft by 8ft, crashed onto Union Street at about 11.30pm on Monday.
A police spokeswoman confirmed that officers arrived at the scene shortly afterwards to cordon off the area in the interests of public safety.
A steel fence was later erected around the front of the shop, with a sign advising visitors to gain entry by going along Union Row and using the back door.
Workers from JAF Maintenance and Construction cleared the debris throughout the morning.
Ross Thomson, Scottish Conservative MP for Aberdeen South, said he was "alarmed" by the incident.
Mr Thomson added: "The onus is now on the building owner to assess the damage and carry out any repairs, and I hope that will also happen quickly.
"It is also the responsibility of the owner to make sure that the property is safe.
"Shop units should not be allowed to fall into a state of disrepair while lying empty."
Aberdeen City Council sent its building standards team to "work with the owner of the building to assess the cause of the fascia failing".
A spokeswoman added: "Thereafter, the owner of the building will be expected to take any remedial action required".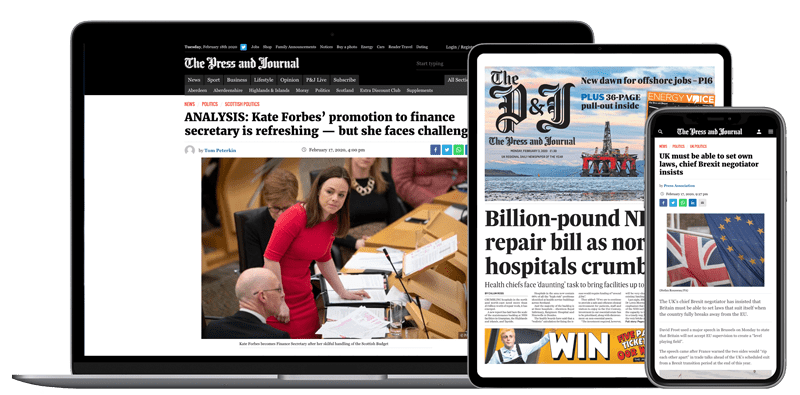 Help support quality local journalism … become a digital subscriber to The Press and Journal
For as little as £5.99 a month you can access all of our content, including Premium articles.
Subscribe