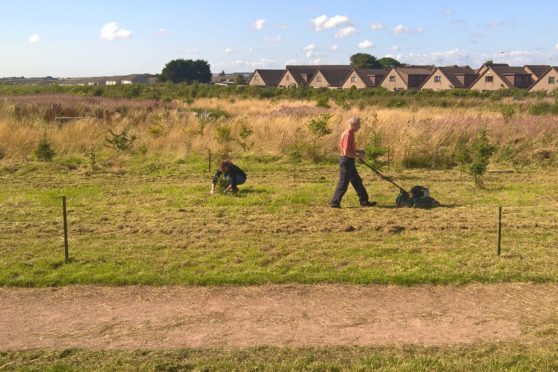 Efforts are underway to create a poignant tribute to the men of an Aberdeenshire community who gave their lives in the First World War.
A community orchard and wooden sculpture of a solider will be brought to life by members of the Portlethen Moss Conservation Group (PMCG).
The group was formed in 2005 in a bid to protect Portlethen Moss in the town and they later expanded to create a native community woodland near Portlethen Parish Church.
Now volunteers have started preparing the land's ground for the project – and are seeking a helping hand from anyone with gardening skills or some time to spare.
Already signed-up to help is north-east sculptor David Roberts, from Dervish Carving, who will sculpt a soldier from a log supplied by Adrian Scott at Toukswood.
Mr Roberts has worked on a number of projects across the north-east and also carved a memorial bench in the United States for firemen who died in the 2001 Twin Towers terrorist attack.
He said: "I am honoured to be a part of this project. It is special, as so many gave up so much 100 years ago."
At the heart of the memorial orchard will be 27 fruit trees, to signify the 27 men from Portlethen who made the final sacrifice during the First World War.
Local school-children will help PMCG plant trees and bushes in the space.
Denise Martin, founder of PMCG, had the initial idea for a memorial orchard to be built.
She said: "I proposed the idea of creating a memorial when I realised the anniversary of the First World War was coming up.
"Since then the idea has grown arms and legs and is now making good process.
"Having a local carver involved has really helped increase interest in the project which is great.
"The soldiers in the war gave their lives for us, so this community orchard and statue will give back life in honour of that.
"This orchard will not only honour these brave men, but create even more biodiversity and become part of the edible trail."
A special ceremony will take place in the woodland on Sunday November 11 to officially unveil the statue and trees.
Relatives of the Portlethen men who lost their lives can donate their own trees to the orchard by visiting facebook.com/portlethenmoss.