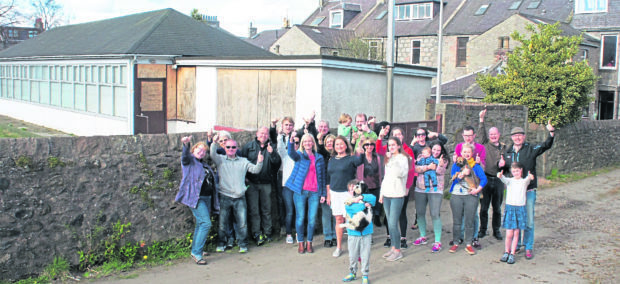 An Aberdeen local community trust has become the new owners of the city's Bonnymuir Bowling Green which it plans to turn into a sustainable market garden and cafe.
The £120,000 purchase was successfully completed by Bonnymuir Green Community Trust on Tuesday.
It was funded through a Scottish Land Fund grant and monies raised through community support and a charity partnership with Sainsburys in Rosemount.
The community enterprise has become the first organisation in the north-east of Scotland to successfully buy private land since the Scottish Government introduced the community buy-out legislation in 2015.
Bonnymuir Green Community Trust co-chair, John Wigglesworth, said: "This is a very exciting moment for everyone involved in the campaign.
"Our vision of turning this unused space into a flourishing market garden and cafe for the whole community to enjoy for years to come is now an important step closer to becoming a reality.
"We appreciate the trustees of the bowling club entrusting us with the green and will develop it into a fitting legacy for the community. It's taken over three years of hard work and dedication from a great group of volunteers to reach this point.
"The largest vote of thanks goes to the community, whose support has driven this project from day one. They will always remain at the heart of this project."
Plans to begin developing the green into a market garden producing fruit, vegetables and flowers, and turning the former pavilion into a cafe and education space will begin in the coming months. It is expected to be open to the public later this year and with the full development of the site completed in 2020.
There was a ballot was held involving local residents earlier this year.
Of the 984 polled by the Electoral Reform Service, 96% were in favour of the trust's plans.
North-east MSP Lewis Macdonald has now submitted a motion to the Scottish Parliament to congratulate the group.
He said: "This is great news and a very important step forward for all those involved in the project, which has potential to be of real benefit to the local community.
"The trust and community volunteers deserve a lot of credit for all their hard work and they now have the opportunity to bring this project to life."