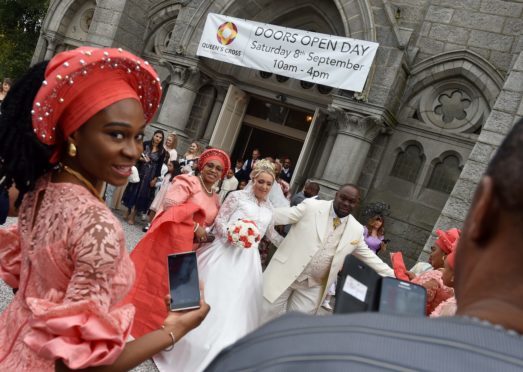 An Aberdeen kirk threw open its front doors to the public yesterday but a couple getting hitched led to a hitch of another kind.
Queen's Cross Church, in the west end of the city, opened to the public from 10am to 4pm to showcase its recent £1.7 million redevelopment project.
However, church leaders revealed that there had been an awkward double booking, with a wedding on the cards as well.
As a result, the historic Albyn Place building sanctuary was off-limits for several hours in the afternoon.
But well-wishers were able to watch the ceremony from the church gallery instead.
Speaking ahead of the event, minister Scott Rennie believed the event provided a unique spin on the open day.
He said: "Although we have a wedding booked for Saturday afternoon, the public will be able to see the inside of the church from our gallery when the wedding is taking place.
"In fact it will add an exciting new dimension to what promises to be an interesting day."
As part of the event, a series of musical performances were staged across the day.